Now going through its second phase of Australian introduction, Infiniti has announced big changes to the pricing structure of its vehicles, with prices cut by up to $13,100.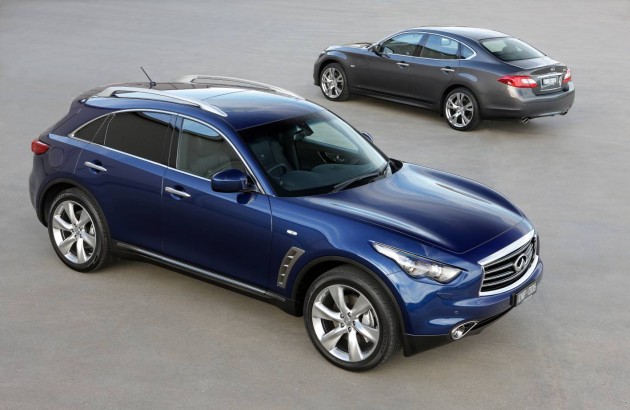 Infiniti was first launched in Australia in September 2012, and now offers a range of three main models; the G Coupe and Convertible, the M sedan, and the latest, the FX SUV. These will soon be joined by the all-new Q50 sedan, which has been designed to take on the likes of the Audi A4, BMW 3 Series, and Mercedes-Benz C-Class.
So far this year the company has sold 170 vehicles (as of the end of July). The FX SUV is by far the most popular in the local market, with 104 examples sold so far this year, followed by the G Coupe and Convertible, with 38 sales, and then the M sedan with 28 sales.
The upcoming Q50 sedan is expected to be the company's best-selling model when it arrives towards the end of this year. It comes in 3.7-litre V6 and hybrid forms, with power topping 264kW in the hybrid.
Across the board, prices have been slashed considerably, with the entry-level G Coupe GT Premium kicking off from $64,400 (down by $11,500). The M sedan now starts from $76,400 (down $9500), while the FX starts at $76,400 (down $7500).
Infiniti is offering special drive-away pricing for its models during the month of September too, increasing value and attractiveness to the premium even more.
See below for the full pricing structure and changes (excluding on-road costs unless otherwise marked):
Infiniti FX
| | | | | |
| --- | --- | --- | --- | --- |
| Model | New MSRP | Previous MSRP | Difference | New Recommended Drive-away Price** |
| FX37 | $76,400 | $83,900 | -$7,500 | $85,507 |
| FX37 S | $83,400 | $92,900 | -$9,500 | $92,857 |
| FX37 S Premium | $86,400 | $95,900 | -$9,500 | $96,007 |
| FX30d | $78,400 | $85,900 | -$7,500 | $87,607 |
| FX30d S | $85,400 | $94,900 | -$9,500 | $94,957 |
| FX30d S Premium | $88,400 | $97,900 | -$9,500 | $94,957 |
| FX50S | $104,900 | $114,900 | -$10,000 | $115,427 |

Infiniti M
| | | | | |
| --- | --- | --- | --- | --- |
| Model | New MSRP | Previous MSRP | Difference | New Recommended Drive-away Price** |
| M37 | $76,400 | $85,900 | -$9,500 | $85,507 |
| M37 S Premium | $86,400 | $97,900 | -$11,500 | $96,007 |
| M30d | $78,400 | $87,900 | -$9,500 | $87,607 |
| M30d S Premium | $88,400 | $99,900 | -$11,500 | $98,107 |
| M35h HYBRID | $90,400 | $99,900 | -$9,500 | $100,207 |

Infiniti G Coupe
| | | | | |
| --- | --- | --- | --- | --- |
| Model | New MSRP | Previous MSRP | Difference | New Recommended Drive-away Price** |
| G37 Coupe GT Premium | $64,400 | $75,900 | -$11,500 | $72,907 |
| G37 Coupe S Premium | $70,400 | $83,500 | -$13,100 | $79,207 |

Infiniti G Convertible
| | | | | |
| --- | --- | --- | --- | --- |
| Model | New MSRP | Previous MSRP | Difference | New Recommended Drive-away Price** |
| G37 Conv. S Premium | $77,900 | $87,900 | -$10,000 | $87,077 |
| G37 Conv. S Premium (Red Interior) | $79,900 | $89,900 | -$10,000 | $89,177 |