Hyundai Australia has introduced the world's first Hyundai i30 SR. The sports variant comes with Aussie developed suspension and 2.0-litre GDI engine from the larger i40.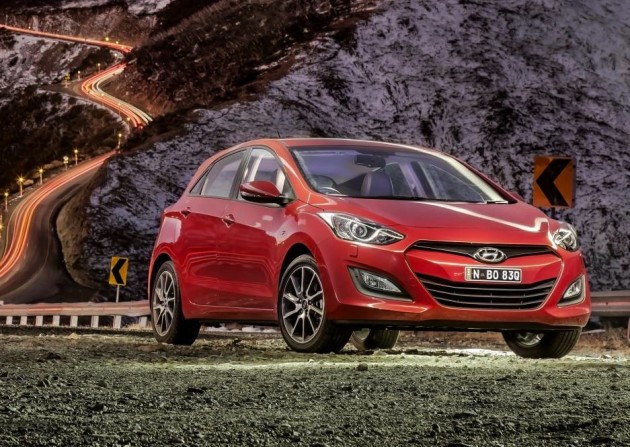 The SR is actually the first i30 ever fitted with the high output 2.0-litre direct injected engine, also seen in the i40. It produces 129kW and 209Nm, which is 19kW more powerful than the otherwise top-spec petrol 1.8 i30. The engine is available with a six-speed manual or a six-speed automatic transmission.
Acceleration from 0-100km/h takes 7.7 seconds for the manual, while the quarter mile sprint comes up in a reasonably quick 15.6 seconds at 146km/h. For the 0-100km/h dash, the SR is 1.4 seconds quicker than the 1.8 i30. Despite the decent performance, it consumes an average of 7.2L/100km in fuel.
In other areas, Hyundai Australia has given the i30 SR a special suspension setup which was tuned specifically for Australian conditions. The sports Sachs dampers front and rear are bespoke items, while the front springs are four per cent stiffer than those found in the regular petrol i30.
The new model is available in just four exterior colours, including Brilliant Red, Creamy White, Hyper Silver, and Phantom Black. The exterior also gets a neat bodykit with a rear diffuser, a black front grille, 17-inch alloy wheels, and a smattering of SR badges.
John Elsworth, chief operating officer, Hyundai Motor Company Australia, recently spoke about the introduction of the new variant, saying,
"The i30 SR incorporates performance and styling improvements to deliver a truly exciting driving experience. Like the Veloster SR Turbo, which also has a locally developed suspension tune, the i30 SR is a clear representation of Hyundai Motor Company's willingness to embrace Australian product initiatives."
Inside, there's alloy pedals, a power driver's seat, a leather trim, and the full suite of features as fitted to the i30 Elite on which it is based.
Pricing for the SR kicks off from the following (excluding on-road costs):
2013 Hyundai i30 SR manual – $27,990
2013 Hyundai i30 SR manual with sunroof – $29,990
2013 Hyundai i30 SR auto – $30,190
2013 Hyundai i30 SR auto with sunroof – $32,190