Galpin Auto Sports (GAS) has chosen the Los Angeles Auto Show to reveal its take on the 2015 Ford Mustang. Called the Rocket, it features a high-output V8 and a host of carbon fibre body modifications.
Henrik Fisker (the man behind the Fisker Karma) was responsible for the lightweight carbon fibre bodywork, which is said to be inspired by Mustangs of the past. The front end sports a new hexagonal front grille, carbon fibre splitter, flared front guards, and a new bonnet that features two intakes that work to provide the engine bay with cooler air.
There's also a set of carbon fibre side skirts, a large rear diffuser, and a set of chunky rear quarter panels to give the Rocket a beefed-up look. Talking about the inspiration for the Rocket, Henrik Fisker commented,
"I love the '60's American muscle cars. They are more sculptured, with more radical proportions and bold details than European counterparts. My favorite Mustang is the 1968 Shelby GT500 that had this long hood and huge air intakes; it gave me butterflies the first time I saw it. We wanted to recreate that feeling with this car."
The Rocket's bodywork has been coated with a colour called Eminence Grise, which is complemented by a set of 21-inch ADV.1 wheels wrapped with Pirelli P-Zero tyres. It also features Brembo brakes, and fully adjustable suspension front and rear so drivers can easily transform the Rocket for track or road use.
Exact details about engine haven't been revealed, however, GAS says the V8 Rocket develops 540kW. This level of power is over 200kW more than the standard Mustang GT V8. The interior of the Rocket features a set of Recaro front seats, sill plates with Rocket insignia, and a set of auxiliary gauges. GAS president Beau Boeckmann said the Ford Mustang is one of his favourite cars, saying,
"I had the pleasure of working with Ford's development team for the last few years, and I think they absolutely nailed it. So of course, I wanted to do something really special when the new Mustang came out.

"When Henrik showed me his ideas, I got chills— it's literally the most beautiful Mustang I have ever seen. Considering it's our top product for customising and performance at GAS, it is a natural fit for us to try to make the performance stand out as much as the design does."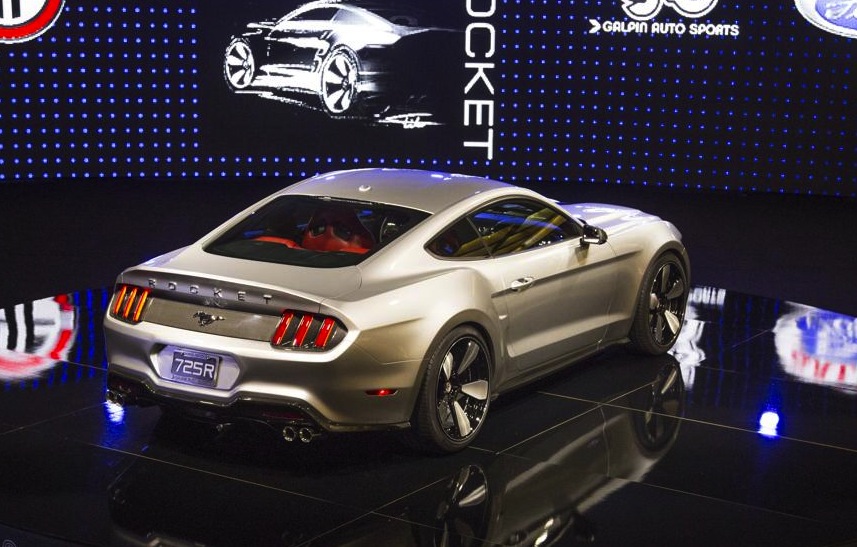 Production for the Rocket begins in December, with deliveries starting early in 2015. Prices will kick off at around US$100,000.