After a number of spy shots and leaks, Ferrari's 599 successor has been unveiled; the all-new Ferrari F12 Berlinetta. It's the fastest and most powerful Ferrari production car ever made.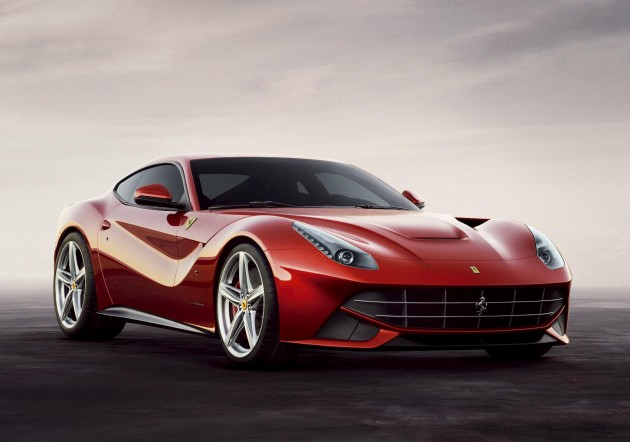 That's right, it has posted a 1:23 time around Ferrari's own Fiorano test track. The time is faster than any other Ferrari road car that has been tested around the circuit, despite being a grand touring high performance coupe.
Earlier reports were not correct about the 620 GT name, but they were correct about the engine. It's a 6.3-litre V12 (6262cc) with direct injection producing a colossal 544kW of power and 690Nm of torque. Power is sent through a close-ratio dual clutch F1-style transmission and into the rear wheels.
Ferrari has managed to develop the Ferrari F12 Berlinetta using sophisticated lightweight materials resulting in a 70kg weight saving over the 599. It tips the scales at 1525kg. The platform consists of an alloy spaceframe using up to 12 different alloys, as well as aluminium.
The wheelbase is shorter than that of the 599, while the seats and dashboard have been moved lower into the chassis for a lower centre of gravity, aiding handling and chassis dynamics. Thanks partly to the transaxle differential layout, weight distribution is 46:54 front to rear for optimum balance.
It might look sexy, but the body has also been formed in the wind tunnel for aerodynamic efficiency and downforce. There are various cooling intakes and vents keeping everything running at its optimum, while the curvy design is able to produce up to 123kg in downforce at 200km/h.
As for the performance, the Ferrari F12 Berlinetta sprints from 0-100km/h in 3.1 seconds, from 0-200km/h in 8.5 seconds, and has a top speed of over 340km/h; this is one cracking vehicle.
The new coupe is headed for Australia in early 2013. Pricing details are yet to be confirmed, however, judging by the latest trends in the industry and the company (the Ferrari FF which is a replacement for the 612 comes in at $73,000 less than the 612), we could expect the F12 to come in at a lower price point than the 599 it replaces. The 599 currently starts at $677,250.