Alfa Romeo has confirmed at the 2011 IAA Frankfurt Motor Show that production of the Alfa Romeo 4C will start in 2013. It was reported sports coupe would hit the market at some point, but this is the first time we've heard official confirmation.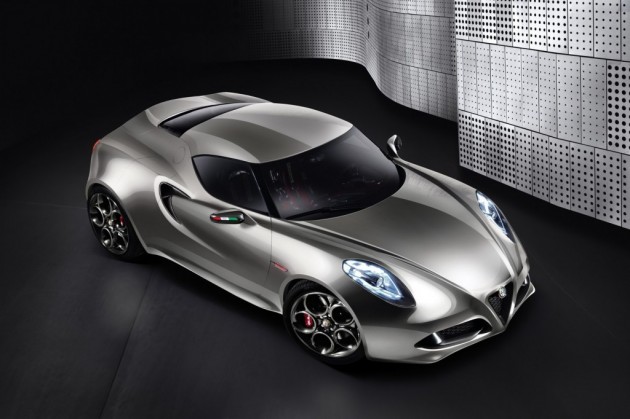 The Alfa Romeo 4C is like an Italian take on the Lotus Elise. It features a super lightweight body and chassis tipping the scales at just 850kg. Power comes from a mid-mounted 1.8-litre turbocharged four-cylinder engine that offers around 150kW of power. It doesn't take a maths genius to figure out what an awesome power-to-weight ratio the 4C holds.
Alfa says the sexy little Alfa Romeo 4C will be capable of sprinting from 0-100km/h in under 5.0 seconds and have a top speed of 250km/h. Speaking at the Frankfurt show, Alfa Romeo CEO Harold Wester spoke about the 4C, saying,
"Light weight and efficiency, Italian style, advanced technology and vehicle dynamics are the core values that will lead Alfa Romeo in the future. This philosophy continues with the 4C, which represents our greatest advancements to date and is a precursor of future development."
According to an Automotive News report in the US, Alfa Romeo is planning to produce around 15,000-20,000 examples of the Alfa Romeo 4C over a five-year period starting in 2013. An insider source also apparently told the publication that 5000-10,000 more will be made in drop-top roadster (4C Spyder) form for performance company Abarth.
The Alfa Romeo measures 4000mm in length and uses a 2400mm wheel base, so it'll be a relatively compact sports car. It will also feature a strict two-seater cabin layout and rear-wheel drive.
The Alfa Romeo 4C is set to coincide with the Alfa Romeo brand being relaunched in the USA, where prices are expected to kick off at around the $60,000 mark (approximately AU$57,978 after straight conversion). Market entry could take place during the start of 2014.
Official word on whether or not the Alfa Romeo 4C will make it to Australia is yet to be made. Australian Alfa Romeo importer ATECO has said that it is too early to speculate if the 4C will be made in right-hand drive, and even if so, it wouldn't make it to Australia until around 2015.
We'll keep you posted. Fingers crossed.