Toyota Australia has announced updates for the local 2014 Toyota 86 range. Most of the changes are to do with suspension, and ride and handling, and some minor revisions to the interior and exterior.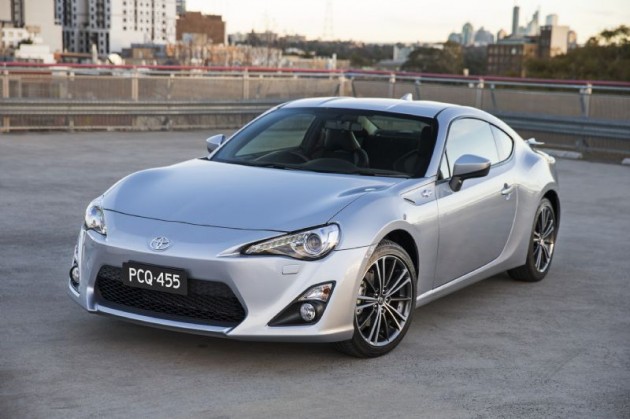 The Toyota 86 is regarded as one of the purest driver's cars available on the market today, and is no doubt one of the best rear-wheel drive offerings this side of $40k. Toyota's chief engineer for the 86, Tetsuya Tada, made changes to the suspension to provide better handling as well as an improved ride for the model update.
Underneath, the suspension is now more rigid for greater response and steering feel, while the dampers have been retuned to offer a smoother ride. Most of the suspension components are now attached to the chassis with stiffer mounts and lower-friction oil, oil seals and guide bushings.
In other areas the 2014 base model GT variant now comes with the same instrument cluster that was fitted to the top-spec GTS. It showcases a digital speedo, a rev indicator shift light for the manual, and a shift position indicator for the auto.
GTS buyers will appreciate a standard reverse camera and a carbon-look motif for the instrument panel.
All variants also get a shark-fin antenna on the roof for a sporty look, while a new silver colour and two new shades of white have been added.
Toyota Australia's executive director sales and marketing Tony Cramb spoke about the updates in a statement, saying,
"Toyota 86 is an affordable sports car that is all about driver involvement, and its chief engineer is passionate about constantly evolving and enhancing this aspect of its appeal.

"This clever fine-tuning of the universally acclaimed dynamics of the car will ensure its handling responsiveness is even more closely attuned to the driver's intentions."
Prices remain unchanged for the entry GT, kicking off from $29,990 for the manual and $32,790 for the auto. The GTS manual price has gone up $500, starting from $36,490, and the auto GTS has increased $800, now available from $39,290 (excluding on-road costs).