Honda has revealed more of the hugely anticipated 2015 Honda Civic Type R. The car is still in prototype form, but we get a glimpse of more of the exterior than ever before.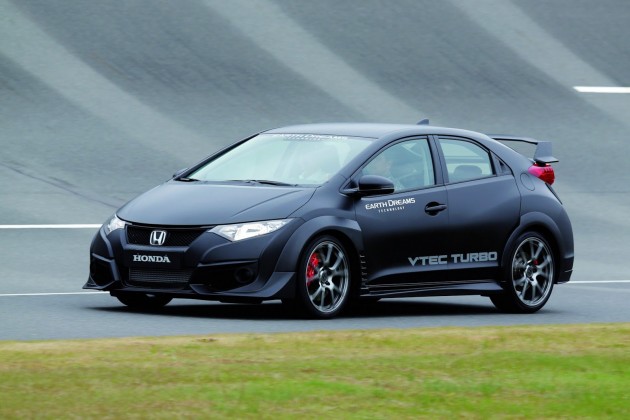 Unlike the previous Civic Type R, the new model looks like it will feature a much more aggressive bodykit and aerodynamic enhancements over the regular Civic. There's a big rear spoiler, big side skirts, and a low and extensive front spoiler system.
As previously reported, the 2015 model will come with an all-new 2.0-litre turbocharged four-cylinder producing at least 206kW. The engine will feature the company's renowned VTEC system, and it is set to be the first of a new wave of turbocharged VTEC engines to come out in the next couple of years.
The turbo unit is expected to be considerably more efficient than the less powerful previous-gen Type R, while torque will be much higher for better overall acceleration and cross country performance.
So much better in fact Honda has set a goal for it to become the quickest ever production front-wheel drive to lap Germany's famous Nurburgring. To achieve the milestone it will have to surpass the Renault Megane RS's 8:07 time.
Honda Australia has confirmed it will be introducing the Civic Type R locally as soon as it's made available. Production will kick off some time in 2015.