Although it's not specifically regarded as a 'hot hatch', the 2014 Holden Cruze SRi-V is as close as it gets for the local GM showroom. The recent model update sees the introduction of a more powerful 1.6 turbo engine, as well as big steps up in quality and equipment in most areas.
You could call the 2014 Cruze a brand new model. Even though the exterior design is the same, the suspension has been overhauled to suit Australian conditions, the interior has been given a modernised makeover – with GM's MyLink interface embedded into a new dash design – while the old 1.4-litre turbo is replaced by a newer, more powerful 1.6-litre turbo.
The 1.6 is available in the SRi, and this, the flagship SRi-V. It produces 132kW of power and 230Nm of torque, and can be matched up to either a six-speed manual (as tested) or a recalibrated 'Gen II' six-speed auto.
Despite the welcome updates, Holden has maintained competitive pricing for the Cruze range. The SRi-V kicks off from $26,490 for the manual and $28,690 for the auto, which is $3000 less than the previous 103kW (1.4-litre turbo) SRi-V model.
2014 Holden Cruze SRi-V – THE SPECS
Engine: 1.6-litre turbocharged four-cylinder with direct injection
Output: 132kW@5500rpm / 230Nm@2200rpm
Transmission: Six-speed manual
Drive type: Front-wheel drive
Wheels: F: 18×8.0, 235/45  R: 18×8.0, 235/45
ANCAP: Five stars (scored 35.04 out of 37)
Kerb weight: 1465kg
Power-to-weight: 11.0:1 (kg:kw)
Official fuel economy: 7.4L/100km
Economy during test: 9.4L/100km
Fuel capacity/Type: 60L/91 RON
Power efficiency: 17.8kW:L/100km
0-100km/h as tested: 9.9 seconds
Priced from: $26,490
2014 Holden Cruze SRi-V – THE PACKAGE
Being the top-line model the SRi-V comes with everything available from GM in this segment. The highlight of which is the new MyLink infotainment touch-screen in the dash. You might have seen a similar unit in the new VF Commodore and you will see more of it in future Holden vehicles.
Holden is looking to blanket its latest technologies across its complete range of vehicles, which is a good idea as it allows all market segments to appreciate the current level of standards offered by GM regardless of the size or style of vehicle.
Accommodation is at the larger end of the segment scale, with good headroom and legroom in the front, and more than acceptable space for rear passengers. All seats are quite large for this segment too, with slightly bolstered front items hinting at the SRi-V's sporty character.
Standard features for the SRi-V include climate control air-conditioning, a mostly leather upholstery, cruise control, heated front seats, and the MyLink infotainment system with multi-format playback including Pandora and Switcher web-based music apps.
Satellite navigation has also been introduced as standard, along with a reverse parking camera, both of which use the same touch-screen interface. All of these features give the car a very competitive edge with many rivals falling short in terms of equipment.
On the outside, the SRi-V is distinguished by a set of 18-inch alloy wheels wearing 235-wide tyres, while a subtle bodykit extends from the body all around. Splashes of chrome are used for the front grille and exhaust tip for a touch of class.
Even though the 1.6 is a new engine for the Cruze, it was actually born in 2007. It has since been refined and re-engineered and now features variable camshaft timing on both the inlet and outlet sides, as well as GM's TwinPort intake setup. The TwinPort system is essentially a variable intake with two ports, one of which is closed during lower engine revs to swirl inlet air for improved low-end torque.
Fitted with the six-speed manual, the SRi-V can be thoroughly entertaining along your favourite road with a slick smooth throw and engagement and easy clutch. If you opt for the six-speed auto, you get a new unit which has been reprogrammed to literally adapt to your driving style.
When we tested the auto version during the MY14 Cruze's official launch earlier this year, we remember feeling quite impressed by the gearbox's ability to upchange and downchange along the same tempo as your driving style. Holden engineers developed the transmission locally and have done such a good job, GM are interested in using some of the development and technology for other vehicles on an international scale.
As for cargo space, the Cruze hatch offers 413 litres which is expandable up to 1254 litres with the rear seats folded down. This is quite large for this segment, with cars like the Mitsubishi Lancer Sportback offering 344 litres, the Mazda3 offering 340 litres, and the Volkswagen Golf offering 380 litres.
The Subaru Impreza is large as well, with 538 litres, while the best-seller in this segment (so far this year), the Toyota Corolla, offers 280 litres.
2014 Holden Cruze SRi-V – THE DRIVE
Fun in easily manageable doses without sacrifice. That's what the SRi-V is all about.
Under power around corners there's some gentle tug at the wheel and the beginnings of some wheelspin as the front skips under the torque. This is the 'fun' stuff we're talking about. The car remains flat and nimble during this time. It rails around and feels quite light and agile on its toes too, making it feel like a bit of a go-kart.
Perhaps the highlight to the 2014 update, aside from the 1.6 engine, is the suspension. Holden engineers have worked harder than ever this time around to ensure the dampers and springs are ideal for Australian conditions. And they are. They present a supple and absorbent ride while body roll is kept to a minimum.
Thanks to the roll-free dynamics, we feel that if Holden ever made a genuine hot hatch version there wouldn't really be any need to firm up the rates; the setting feels like it could handle a lot more as is.
If anything was to be improved it would be the steering. It's an electric type, which, again, has been calibrated by Holden engineers. It's pleasant and light for around town and seems to tighten up when you get enthusiastic. If it were a genuine hot hatch though it would need to be a bit more precise, if Holden ever decides to go down that route.
Maximum power won't exactly push you right back into your sea, but there's enough shove available to see the revs spin their way to redline pretty quickly before you slot home another gear. We timed 0-100km/h in 9.9 seconds, which is a little slow for a car of this nature. For example, we've tested a manual Corolla Levin ZR (103kW) in 8.8 seconds and a Mazda3 (108kW) automatic in 8.3 seconds.
Boost pressure builds from around 2500rpm. We wouldn't call it turbo-lag, however, the engine seems to be happier above these revs, especially in higher gears like third and fourth. If you remain in this region the engine provides unyielding pulling power which is capable of taking you and four other passengers up steep hills and so on with no trouble.
Power does slacken off higher up in the rev range with maximum power achieved at a pretty low 5500rpm. This is where it's obvious the SRi-V is more of a warm hatch than a hot hatch. Holden has purposely mapped the engine's computer to provide maximum mid-range as that's where most drivers spend most of the time, according to Holden. With mapping like this economy is also maximised.
When it comes to slotting home gears the six-speed manual is a delight to use. The action is smooth with a relatively short gear shifter, and the clutch pedal is soft yet communicative so you know where and when it's grabbing.
As we said at this beginning of this section, it's an enjoyable car to drive without going over the top in any one area. Best of all, it's fun for all drivers no matter the level of skill or ambition.
2014 Holden Cruze SRi-V – THE VIDEO
2014 Holden Cruze SRi-V – THE VERDICT
It forges a new segment, the Holden Cruze SRi-V, offering a balanced blend of sportiness and everyday practicality. It's not going to absorb all of your licence points but at the same time it provides a commendable level of energy and enthusiasm with none of the full hot hatch drawbacks.
PROS:
– User-friendly cabin and controls, smooth gear change
– Reasonable starting price for the amount of standard kit
– Improve mid-range torque with the 1.6 engine over the 1.4
– Australian-tuned suspension; direct, flat handling

CONS:
– Engine could do with more top end power; pretty slow 0-100km/h time
– Some scratchy plastics used in the otherwise decent-quality interior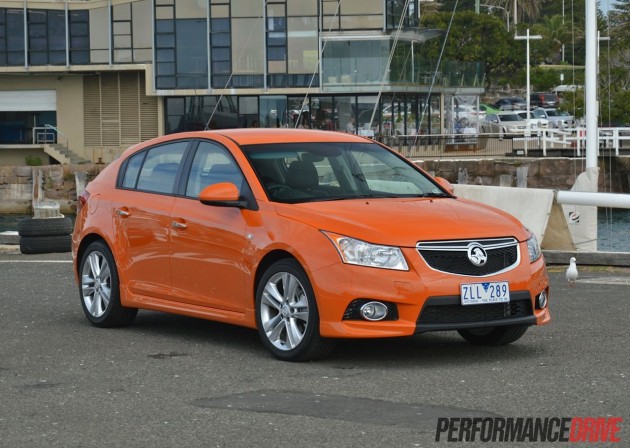 2014 Holden Cruze SRi-V – THE COMPETITORS
Ford Focus Sport
2.0-litre turbo four-cylinder, 125kW/202Nm – 6.6L/100km – 1368kg – from $25,890 (manual hatch)
Mitsubishi Lancer VRX Sportback
2.4-litre naturally aspirated four, 125kW/226Nm – 8.8L/100km – 1355kg – from $29,990 (manual hatch)
Mazda3 SP25
2.5-litre naturally aspirated four-cylinder, 122kW/227Nm – 8.6L/100km – 1342kg – from $31,490 (manual hatch)
Subaru Impreza 2.0i-S
2.0-litre naturally aspirated four-cylinder, 110kW/196Nm – 6.8L/100km – 1385kg – from $31,490 (CVT only)
Toyota Corolla Levin ZR
1.8-litre naturally aspirated four-cylinder, 103kW/173Nm – 7.1L/100km – 1290kg – from $28,490 (manual hatch)