The all-new and rather striking 2013 Skoda Octavia has been revealed, showing off a very modern and even muscular exterior design. The new model also packs more interior space and more efficient engines than the outgoing version.
Skoda is calling the design refined, clear, and precise, and we think the company is spot on. It looks great from almost every angle, and it certainly should be attractive enough to shake off any previous doubts many have had on the company's design capabilities.
The new model rides on the Volkswagen Group MQB platform, which also underpins the next-gen Mk7 Volkswagen Golf. It allows the Octavia to be larger, providing "benchmark" levels of cabin space and luggage capacity, and lighter in weight, according to Skoda.
"No other car in the compact segment offers more interior length (1782 mm), more knee room (73 mm) and more headroom at the back (980 mm). Also best in class is the boot volume at 590 litres."
Overall, the Octavia has been stretched in every main direction. It's 90mm longer and 45mm wider than the outgoing model, while the wheelbase is also increased by 108mm, assisting to achieve the expanded cabin space.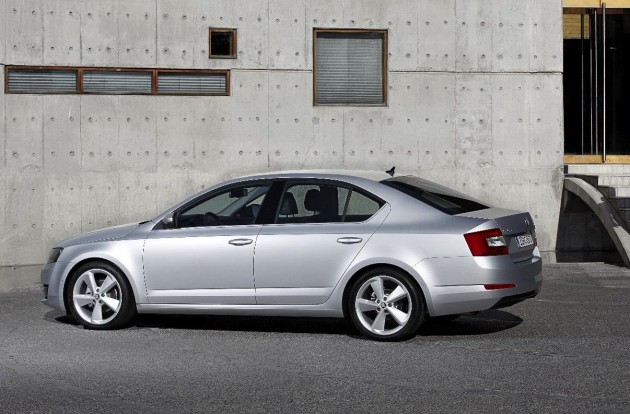 Even though the new model is larger, it's also up to 102kg lighter in weight thanks to a clever use of materials and construction methods. This, along with fuel-efficient engine packages, provides improved performance and fuel economy.
Joining the new lineup, at least for the European markets (Australian specs still yet to be announced), the most fuel-efficient variant will be the GreenLine. It comes with a 1.6-litre turbo-diesel producing 81kW, which isn't much, but it does come with an average fuel consumption rating of just 3.4L/100km.
Topping out the range initially will be a 1.8-litre turbo four-cylinder producing 132kW. Performance and economy figures are yet to be announced. Skoda has said that an all-wheel drive version is in the works, as well as a high performance Octavia 'RS'.
Some of the new features and technologies for the new model include Adaptive Cruise Assistance, Intelligent Light Assist (auto high-beams), Automatic Parking Assist, and a new Traveller Assistant package with traffic light recognition. There's also selectable driving modes on board, setting up the car in a more sporty setting and so on.
In Australia, the 2013 Skoda Octavia is set to hit the showrooms during the second-half of next year.