The 2012 Chrysler 300C CRD is the only large turbo-diesel premium sedan currently on the sale for well under $60k. It's been squarely placed in the market to take sales from the Ford Falcon and Holden Commodore, both of which are not available with a diesel engine option.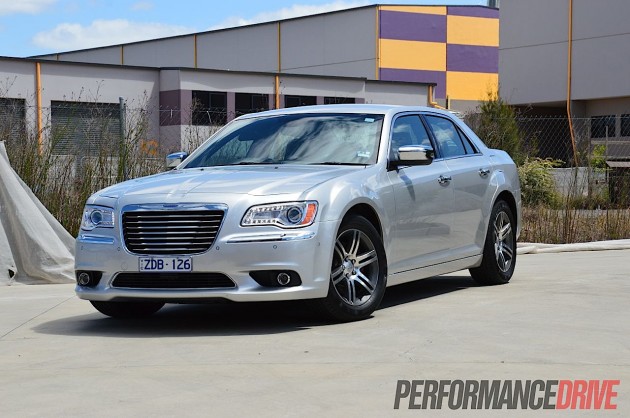 2012 CHRYSLER 300C CRD – PROS AND CONS
PROS:
Taught yet comfortable suspension a nice compromise
Plenty of turbo-diesel torque; wheelspin off the line
Relaxing, quiet, and spacious interior, also much more modern than the previous-gen model
Smooth engine sounds like a petrol six from the cabin
Price and packaging
CONS:
Steering feel isn't anything to write home about
Handling not quite up to scratch, especially noticeable on average country roads
18-inch wheels almost look too small in those large wheel arches?
2012 CHRYSLER 300C CRD – OVERVIEW
So although there is no Falcon or Commodore diesel offering out there, there is the Chrysler 300C CRD. The engine is available in the entry-level '300 Limited' too. And with the latest model, any crudeness or 'American' build quality that you may have heard about has certainly been removed.
The new 300 is based on the same platform as the first generation model, which is actually based on an older E-Class Mercedes-Benz. It has all been revised for the latest model though. The chassis has been stiffened, the suspension has gone through a thorough overhaul, and the engines are now more powerful than ever and more fuel efficient. It all sounds like the beginnings of a well-sorted model evolution.
The diesel engine in this 300C – and all new diesel 300 variants – consists of a tweaked 3.0-litre turbo-diesel V6 producing a chunky 176kW of power (up from 160kW) and a class-leading 550Nm of torque (up from 510Nm). It's matched to a five-speed automatic transmission that sends power to the rear wheels.
The engine is built by VM Motori in Italy in co-operation with Fiat Powertrain Technologies. With Chrysler now owned by Fiat, the revised engine utilises Fiat's latest Multijet2 technology which is designed to improve performance and economy.
Prices for the luxury-focused 300C CRD start at $51,500, or $48,000 for the entry-level 300 (without the 'C') Limited CRD.
2012 CHRYSLER 300C CRD – ENGINE SOUND AND 0-100KM/H ACCELERATION VIDEO
2012 CHRYSLER 300C CRD – ACCOMMODATION AND EQUIPMENT
It's a really nice place to be sitting in the new 300. The people at Chrysler have definitely stepped it up a notch and perhaps taken inspiration from the big-hitters in Europe in terms of styling, build quality, and features. There's no mistaking it is still an American at heart, but that's a good thing as it proves Chrysler is not simply trying to copy the Europeans.
The interior is super-accommodating in the front and back. The standard leather-clad seats on this 300C offer soft cushioning and plenty of shoulder space in the front, and are ideal for long interstate journeys. The seats are a little bit flat for our liking, as in, there is little lateral support in the form of side bolsters, however, this '300C' variant is targeted at those who simply want comfort and luxury.
In the back there's ample room too, with no shortage of legroom for all three seating positions, and plenty of shoulder space even with three adults occupying the entire bench. Headroom is great, while the side seat passengers are treated to their own seat heaters for extra cruising comfort.
Nestled in the newly designed dash of the 300C is the company's latest multimedia interface. It incorporates a number of functions and settings in the one unit, including vehicle controls and settings, the air-con, the satellite navigation, and the audio system.
In a 300, you need a good stereo. Fortunately, Chrysler understands this and has decked the 300C out with a very good nine-speaker setup with a sub-woofer that provides beefy bass and good overall acoustics and clarity.
Like the cabin, boot space is plentiful, with 462 litres on offer. The capacity doesn't exactly stack up on top of the Ford Falcon G6 E EcoLPI (464 litres with LPG tank) or the Holden Calais (496 litres) though, as the floor is slightly shallower towards the far end.
2012 CHRYSLER 300C CRD – DESIGN AND SAFETY
The new 300C is a big step up from the previous model. Not only is it more refined and improved in terms of build quality, the design is also refreshed for a more prestigious rather than glamorous demeanor.
There's still plenty of chrome around the outside, with trimmings along the door window frames, around the headlights, the big grille of course, and even along the rear end joining the taillights.
The way the chrome is presented is a little more conservative and stately, with softer edges, more curves, and each chrome strip seems to be blended in more smoothly with the contours of the 300 body.
Fans needn't worry about the 300 losing its 'gangster-style' appeal. The 2012 model is presented in that same large slab-like stance, exactly like the old model.
Distinguishing highlights that come with the 2012 model include daytime running LEDs within the headlights, slightly smaller yet wider headlights, a new front grille with horizontal fins only, instead of the previous vertical and horizontal crossed pattern, and a more elegant rear end to finish it off.
As far as safety goes, the 2012 300C comes with all of the modern technologies you've come to expect these days. Safety measures include dual front airbags, side curtain airbags front and rear, and side airbags for the front passengers. There's also switchable traction and stability control, a rear vision camera, and an on-board tyre pressure monitor.
Australia's ANCAP and the guys at Euro NCAP are yet to test the new model, however, the National Highway Traffic Safety Administration (NHTSA) in the US has given it a maximum five-star rating. The new model has also been awarded 'Top Safety Pick' by the Insurance Institute for Highway Safety. Both of these accolades are considered a very big deal in the US.
2012 CHRYSLER 300C CRD – ON THE ROAD
Quiet, quiet, quiet. That's the one word that sums up the on-road character of the new CRD 300C. Even the V6 diesel engine is subdued. When pushed, it sounds pretty much like a humming petrol six cylinder. The interior is surprisingly prestigious on the road too, with no creaks or annoying rattles intruding on its relaxed nature.
That's not to say the 300C CRD is boring, or that it won't get up and boogy if you ask it too. Under full power, there is a moment of hesitation, or turbo-lag, but once that rush of turbo boost comes in you'll hear the rear tyres chirping for traction as 550Nm turns itself into more than commendable acceleration.
We timed 0-100km/h in 7.0 seconds flat, which is satisfying enough to trigger a small dose of adrenalin shooting through your body. It's not so much the 176kW that does it, it's the torque that gives you that tension and rush feeling inside your gut.
Around the bends is where the traditional 300 shows its face. It's not that it isn't an improvement on the old model, it's simply not quite up to scratch compared with the Aussie rivals.
The steering is a little vague and not all that precise at some points of steering lock, while feedback is more of a formal letter than a friendly one-0n-one discussion. It feels like the steering was created with nuts and bolts solely for the purpose of turning the front wheels, whereas other vehicles in this category, it feels like the steering has been honed and fine-tuned with some personality added in.
While the steering may not be its forte, the suspension and ride is certainly worth writing home about. The dampers absorb sudden bumps and ruts very well without sending repercussions or ricochets through to the passengers. The big sedan changes direction fairly swiftly too, and it doesn't wobble or tank-slap like you might expect.
The brakes are quite good as well, and even support intermediate sporty driving. The pedal feel isn't the most inspiring you'll ever come across, but it gets the job done, and you can begin to feel when a wheel wants to lock and the ABS starts to kick in.
As for fuel economy, we averaged a respectable 8.9L/100km. This was achieved under a mix of driving conditions, including mild highway stints, a mountain pass run, and a lots of short city stop and start driving. With the 72.3-litre fuel tank, you can expect to achieve over 750km per tank quite easily.
Overall, the Chrysler 300C CRD is a pleasant vehicle to drive. It's also superb for taking four or five adults on long journeys. Whether it's in the city, up mountain roads, or out on the highway, the strong and torquey diesel engine is more than enough to pull it all through. You can even have a bit of fun doing it.
2012 CHRYSLER 300C CRD – VERDICT
It may not have the best reputation in terms of build quality and refinement, but this new model is well worth a look into.
The interior quality is now at or above satisfactory for this segment; the diesel engine is refined, economical and provides bucket-loads of torque and decent power; and the styling is refreshed for a sleeker, more premium and less 'pimped out' appearance.
If you're in the market for a large luxury sedan that won't break the bank, and would like the convenience and torque of a diesel motor, take one of these for a test drive. You'll be pleasantly surprised.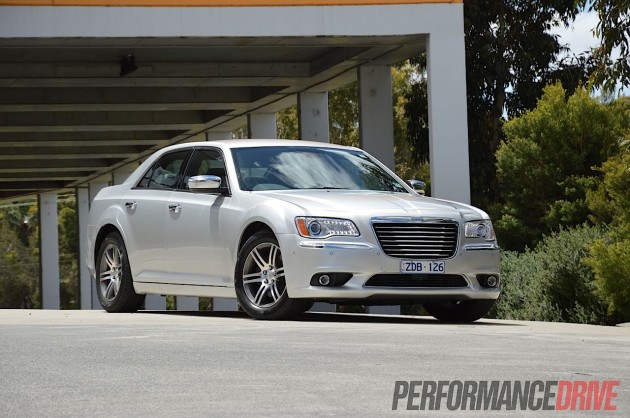 2012 CHRYSLER 300C CRD – THE COMPETITORS
(Nearest rivals in terms of price and features. There is no diesel competition in this price segment)
Ford Falcon G6E EcoLPi – 4.0-litre straight six LPG, 198kW/409Nm – 1795kg – $49,235
Holden Calais – 3.6-litre V6 petrol, 210kW/350Nm – 1749kg – $48,290
2012 CHRYSLER 300C CRD – SPECIFICATIONS
MODEL
2012 Chrysler 300C CRD
ENGINE
3.0-litre turbo-diesel V6 with double overhead camshafts and common-rail direct injection
ENGINE SIZE  / COMPRESSION RATIO
2987cc / 18:1
BORE X STROKE
83mm x 92mm
POWER
176kW@4000rpm, 550Nm@1800rpm-2000rpm
POWER TO WEIGHT RATIO
11.6: 1 (kg:kW)
KERB WEIGHT
2042kg
HEIGHT / WIDTH / LENGTH
1488mm / 1905mm / 5066mm
DRIVETRAIN
Five-speed auto transmission, rear-wheel drive
BRAKES
F: Ventilated discs
R: Ventilated discs
WHEELS / TYRES
F and R: 18 x 7.5-inch alloys, 235/55 R18
FUEL TANK CAPACITY
72.3 litres
FUEL TYPE
Diesel
FUEL CONSUMPTION
Tested average: 8.9L/100km
Official average: 7.1L/100km
PERFORMANCE
0-100km/h: 7.0 seconds (tested)
PRICED FROM
$51,500
WARRANTY
Three-year/100,000km