BRABUS has revealed the new 2012 BRABUS Rocket 800 prior to its official 2011 IAA Frankfurt Motor Show unveiling. As previously reported, BRABUS provided an early teaser shot of the new model it will be unveiling at Frankfurt, but the company didn't say what model it would be.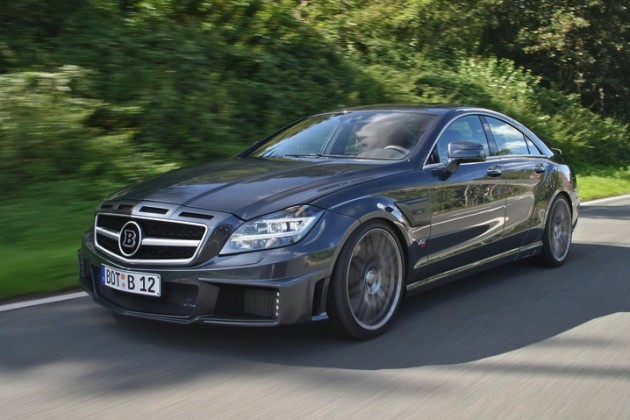 It turns out, as some predicted with renderings, it will be a new generation BRABUS Rocket 800 based on the top-spec 2012 Mercedes-Benz CLS 63 AMG, a car which already boast power figures of 386kW and 700Nm, using the new 5.5-litre twin-turbo V8.
The 2012 BRABUS Rocket on the other hand, does without the V8 in exchange for a tuned twin-turbo V12 engine outputting 588kW (800PS) of power and 1100Nm of torque. Power will be sent through a AMG MCT Speedshift seven-speed automatic transmission.
As for the performance figures, according to German publication Motorvision, the new 2012 BRABUS Rocket 800 will be capable of doing the 0-100km/h dash in just 3.7 seconds, 0-300km/h in 23.8 seconds and will have a top speed of 370km/h.
Like the previous generation, the 2012 BRABUS Rocket 800 will feature a number of visual revisions and highlights over the normal Mercedes-Benz CLS, including a tidy bodykit with new front and rear bumper bars, as well as a boot-mounted rear spoiler (not the usual BRABUS lip style either).
The new model will also feature Brabus Monoblock F Platinum Edition lightweight alloy wheels and a tastefully reupholstered interior with bespoke BRABUS highlights and trimmings.
It is, quite possibly, the ultimate night prowler with awesome performance potential to back it up. What do you think?
Also check out:
– New BRABUS Rocket – rendered speculation
– BRABUS to unveil new model at 2011 Frankfurt show
– BRABUS 800 E V12 Cabriolet: fastest 4-seat convertible in the world