BMW Australia has announced pricing for the all-new 2012 BMW 3 Series sedan. The new model will be available in three trim levels – Sport Line, Modern Line and Luxury Line –  and, at least initially, in the following variants; 2012 BMW 320d, 2012 BMW 328i, and 2012 BMW 335i.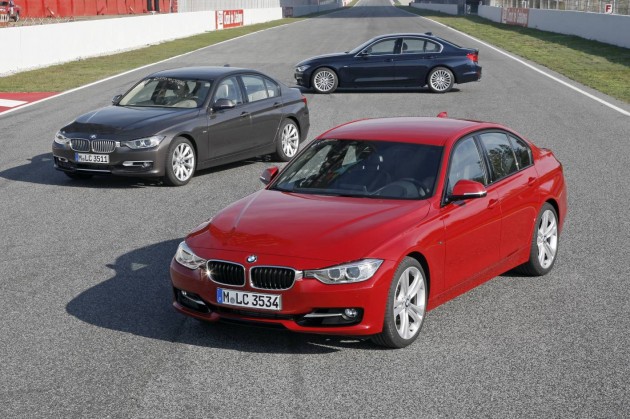 Making up the entry-level of the range will be the new 2012 BMW 320d. It comes with a 2.0-litre turbo-diesel engine developing 135kW of power and 380Nm of torque. Average fuel consumption is rated at an almost hybrid-like 4.5L/100km. Along with being larger and more accommodating inside, like the rest of the 2012 BMW 3 Series range, the new 320d also gets electric front seats, parking distance control and automatic stop/start. Prices will start at $60,900 (up around $1000 on the current 320d price).
Next up is the 2012 BMW 328i. This comes with the new 2.0-litre TwinPower turbocharged four-cylinder engine, producing 180kW of power and 350Nm of torque. It's able to sprint from 0-100km/h in just 5.9 seconds – much quicker than the current 325i (8.6 seconds) model it replaces. Fuel consumption is rated at a very respectful 6.3L/100km. Prices will start at $66,900 (around $5000 less than the current 325i).
Lastly in the initial lineup is the flagship (until the new M3 comes along) 2012 BMW 335i. This comes with the 3.0-litre TwinPower turbo straight-six engine producing 225kW of power and 400Nm of torque. It's able to do the 0-100km/h dash in 5.5 seconds, while boasting an improved average fuel economy rating of 7.9L/100km over the current model's 9.6L/100km rating. Prices will start at $91,900 (over $15,000 cheaper than the current 335i sedan).
The new 2012 BMW 3 Series will go on sale in Australia in February. Pricing on options are as follows:
(Manufacturer's List Price)
BMW 320d – $60,900
BMW 328i – $66,900
BMW 335i – $91,900
Trim and equipment options
BMW 320d – Modern Line: $3100, Sport and Luxury Line: $4100
BMW 328i and 335i – Modern Line: $1000, Sport and Luxury Line: $2000