Volkswagen's upcoming large SUV, believed to be called the Teramont, has been caught with no clothes on inside a workshop in China. This model will go after the likes of Toyota Kluger, Mazda CX-9, and Hyundai Santa Fe and Kia Sorento.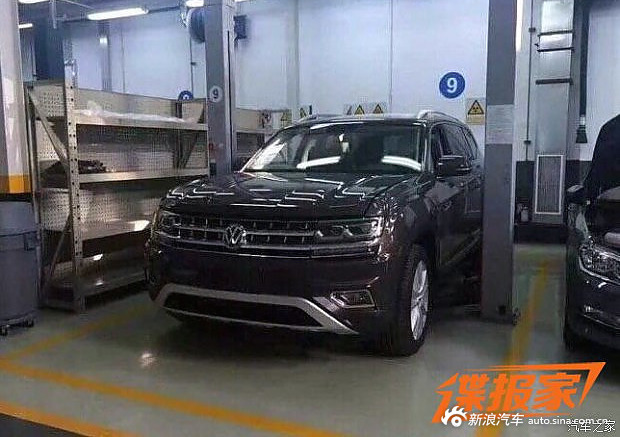 The styling theme is faithful to the CrossBlue concept from the 2013 Detroit Motor Show, while the interior strongly resembles that of the new Amarok. It is square and bluff, with lashings of chrome and an overall hard-edged styling theme.
According to reports, the Teramont will be built in Chattanooga, Tennessee, alongside the US-only version of the Passat which utilises a unique and cost-reduced NMS platform.
It was for this reason that many speculated that it would share the US-spec Passat platform, but actually, the Teramont will apparently top the MQB, like the Golf, our Passat and the next Polo. This will surely make it the largest vehicle on the platform, sharing a lot of its DNA with Skoda's upcoming Kodiaq SUV, including a seven-seat layout.
The proportions appear faithful to the CrossBlue's 4986mm length, 2014mm width and 1732mm height, meaning it comfortably dwarfs the more luxury-oriented Touareg SUV flagship in most areas, albeit with the same height.
As for power, it's expected to come with 2.0-litre turbo-petrol and diesel four-cylinder units, and a V6 as depicted here. The V6 is likely to be a 3.6-litre 'FSI' direct-injected petrol producing about 200kW.
Aside from being made and sold in the US, it's understood it will also be made and sold in China (hence this example spotted in China). The American market Teramont will probably debut in January at the next Detroit auto show.
Photo credit: auto.sina.com.cn