Volkswagen is planning to unveil a funky new SUV concept at the Geneva Motor Show next week, called the Volkswagen T-ROC concept.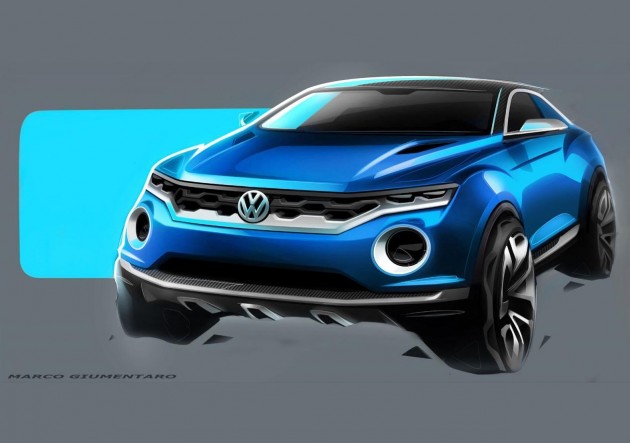 Designed to give us all a look into the future of Volkswagen SUV design, the T-ROC is about muscular proportions, technology, and all-new design functions.
It has a removable roof that splits into halves, for example. These can be stowed in the boot area to provide an open-top driving character.
To help tackle the off-road technical stuff, the T-ROC is fitted with exterior cameras front and rear. These are supported by their own LED lights for night off-roading.
Under the bonnet sits a 2.0-litre turbo-diesel four-cylinder producing 135kW of power and 380Nm of torque. It's connected up to a seven-speed dual-clutch DSG auto with 4MOTION all-wheel drive.
Performance on the tarmac is actually pretty impressive, with 0-100km/h coming up in 6.9 seconds. Despite the decent kick, it returns an average fuel economy of just 4.9L/100km.
It all sits on Volkswagen Group's latest MQB platform, which is used to underpin the new Audi A3 and Volkswagen Golf. Under the T-ROC it results in an overall length of 4179mm, 1831mm in width, and 1501mm in height.
In these sketches it looks very solid and chunky, and quite cool. We look forward to seeing what the beast looks like in metal. Stay tuned for plenty of updates from the Geneva show, starting March 6.