The Volkswagen Scirocco R is now on sale in Australia. Prices start at $47,490 for the six-speed manual version, and $49,990 for the DSG dual-clutch transmission option.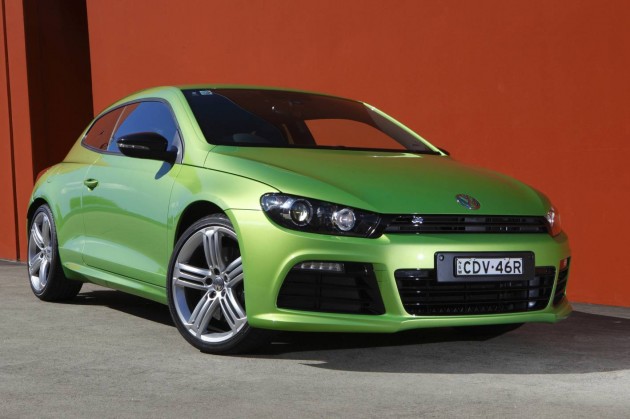 With the character and styling of what is essentially a Golf coupe, the Scirocco R is only available in three-door guise, and only available in Australia in 'R' trim. This means it gets a high performance 2.0-litre turbocharged four-cylinder petrol engine developing 188kW and 330Nm.
Power is sent through the front wheels, providing acceleration from 0-100km/h in 6.2 seconds for the manual, and 6.0 seconds for the DSG. Braking is then taken care of by 345mm front discs and 330mm rear discs.
As for handling and safety, the new Volkswagen Scirocco R comes with traction control (Anti-Slip Regulation) and stability control (Electronic Stability Program), paired in with a 'Sport' button. When Sport is selected in the cabin, the ASR is completely turned off, while ESP is backed off a touch to allow for some slip and a more active handling feel.
On top of this, the Scirocco R also comes with a complex front differential to ensure maximum acceleration and cornering stability. Volkswagen calls it the Extended Electronic Differential Lock (XLD), and it works like a limited-slip diff system, tied in with the ESP, to prevent inside wheelspin and minimise understeer.
While being sporty, the Scirocco R is also fairly fuel efficient, coming with an official average consumption rating of 8.1L/100km for the manual option, and 8.2L/100km for the DSG.
Replacing the top-of-the-range Golf R three-door, the Scirocco comes packed full of standard equipment, such as LED daytime running lights, 2+2 'R'-logoed sports seats, a multimedia-compatible touch screen stereo, a tyre pressure indicator system, sports steering wheel, and 19-inch 235-wrapped alloy wheels.
The Volkswagen Scirocco R is quick, classy, and unique. And because it's based on the already highly praised Golf GTI and Golf R, you have the handling security and quality to back it up.