The famous Monte Carlo Rally in Monaco is over for another year – 81 years in total – however, this was a particularly special event for Volkswagen, as it picked up second place during its debut WRC in the new Polo WRC car.
The opening round of the 2013 FIA WRC season was an interesting one, with almost every kind of weather condition being thrown at the teams and drivers. Conditions included snow, heavy rain, ice, and wet tarmac, as well as some sunshine.
Taking out the overall win was nine-time world champion Sebastien Loeb and co-driver Daniel Elena in the new Citroen DS3. The team lead from the second stage, giving Loeb his seventh Monte Carlo WRC win.
Loeb is currently retired from WRC, but still competes part-time and will appear at selected rounds this year.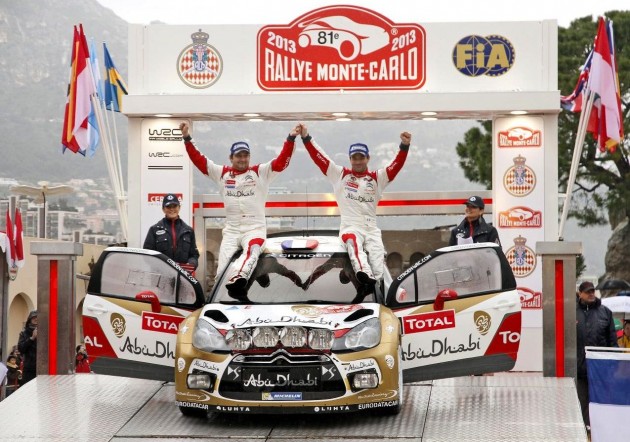 For Volkswagen this was a very important and very pleasing effort. The team won two special stages in the all-new vehicle, which had never competed in WRC before. Jost Capito, Volkswagen Motorsport director, said,
"Second place in the first rally of the new Polo R WRC is more than we could have expected. The team did an exceptional job in the last four rally days and prepared the cars perfectly… There was no mistake, not the slightest problem."
Despite the success, the rally itself had to be called off two rounds short of the scheduled end due to extremely poor weather conditions and the risk with spectators. The final round along the famous Col de Turini was part of the cutoff.
The next round of the FIA WRC will take place in Sweden, from February 7-10.
See below for the 2013 WRC Monte Carlo Rally results:
1. Sebastien Loeb/Daniel Elena (F/MC), Citroen                  5h 18m 57.2s
2. Sebastien Ogier/Julien Ingrassia (F/F), Volkswagen         + 1m 38.9s
3. Dani Sordo/Carlos del Barrio (E/E), Citroen                       + 3m 49.1s
4. Mikko Hirvonen/Jarmo Lehtinen (FIN/FIN), Citroen          + 5m 26.3s
5. Bryan Bouffier/Xavier Panseri (F/F), Citroen                     + 8m 13.1s
6. Mads Ostberg/Jonas Andersson (N/S), Ford                    + 12m 03.7s
7. Martin Prokop/Michal Ernst (CZ/CZ), Ford                        + 23m 27.3s
8. Sepp Wiegand/Frank Christian (D/D), Skoda                     + 29m 34.5s