A stock standard F80 2014 BMW M3 has ran the quarter mile in the US in just 11.66 seconds at 192km/h. This is an exceptionally quick time for the performance 3 Series.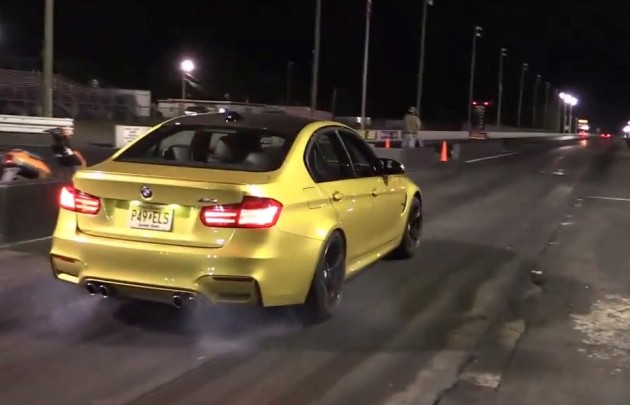 Considering its larger brother, the current 'F10' BMW M5 with its 412kW 4.4-litre twin-turbo V8, has completed the sprint in 11.78 seconds, it gives us a clear indication of just how fast the new M3 is.
As we found out a few weeks ago, the latest M3 produces more power than the company claims. A dyno confirmed the 3.0-litre twin-turbo inline six to be producing more like 350kW at the engine, and not the factory-quoted 317kW.
Like all M3s, and in fact all M cars, engineers aren't focused on straight-line speed or outright power. The philosophy is more about the overall balance of performance and of course the 'sheer driving pleasure'. However, it is impressive to see it can perform superbly on the strip.
The new model is on sale in Australia right now, in both manual and automatic form, and as a coupe as the M4. Power is provided by a 3.0-litre twin-turbo inline six producing 317kW and 550Nm, offering a respectable average fuel consumption of 8.3L/100km.
Take a look at the video below provided by BimmerPost to see what 11.66 seconds looks like.