Even though Mercedes-Benz is yet to unveil its new GLA-Class small SUV in production form, a prototype AMG version has been spotted on the Nurburgring in Germany cutting up some laps. It seemingly proves a hot GLA AMG model is on the way.
The GLA SUV will sit in the company's showroom as the smallest SUV on offer, while the AMG model is set to be the most powerful 2.0-litre SUV in history. Power is highly likely to come from the heavily boosted 2.0-litre four-cylinder engine taken from the new A 45 AMG and CLA 45 AMG.
In the cars, the 45 AMG produces 265kW of power and 450Nm of torque. It's potent enough to see 0-100km/h acceleration come up in around 4.6 seconds. Due to the added weight of the SUV, performance is expected to be a touch slower, but not far off.
Like the A 45 and CLA 45 versions, the GLA 45 will of course come with a 4MATIC all-wheel drive system. The unit would provide not only exceptional traction off the line, but also suitable traction to offer mild off-roading capabilities.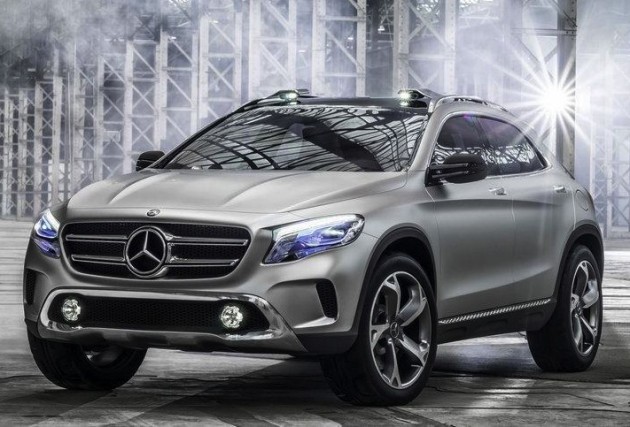 As for the design, well, the GLA concept (above) is all there is to go by. The heavy camouflaging on the prototype makes it very difficult to envisage an AMG version. It is likely to sport chunkier front and rear bumpers bars over the standard models, larger wheels, and a set of quad-outlet exhausts.
Brakes, suspension, and a seven-speed dual-clutch auto transmission are also set to be fondled by AMG to cater for sporty driving, while a number of driving modes are expected to be available for the driver in the cabin.
A full unveiling is being tipped to take place at the Frankfurt Motor Show in September. We'll be sure to provide further information on confirmation and/or any official announcements as soon as we can.
In the meantime, click play below to take a look at how quick this machine will be.