Ever wondered what the inside of a Mazda 787B engine looks like? Well, today's your lucky day. Watch here as the engineers strip and rebuild the 26B Wankel engine bringing it back to its former 1991 Le Mans winning glory.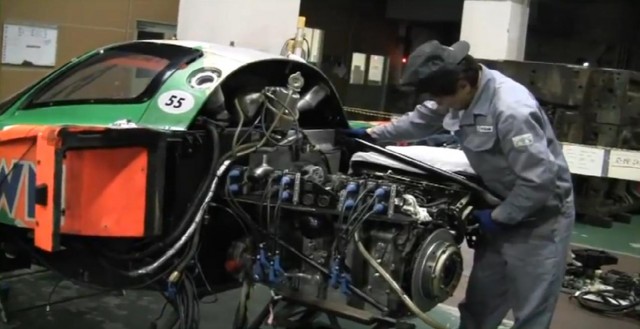 It appears business-as-usual for the engineers even if it is some 20 years after the car was in competition. One of the highlights of the video is the detailed images of the 787B race car being pieced back together, then fired up. We're sure no one will argue (piston lovers included) about the sublime sound the 787B emits.
Recently, former 787B driver, and winner of the 1991 Le Mans race, Johnny Herbert, was reacquainted with his ex-race car. Marking 20 years since the Wankel-powered race car took top spot on the podium, Herbert completed one full lap of the Le Mans circuit. The video below shows the entire lap in detail.
The Mazda 787 and 787B race cars were built to compete in the World Sportscar Championship, the 24 hour Le Mans, and the All Japan Sports Prototype Championship between 1990 and 1991. It was the last time Mazda used the Wankel engine to power its race cars on a World Championship and Japanese Championship level.