To help us all get around the workings of the new Lamborghini Asterion concept car, the Italian company has put together a simple yet effective video demonstration on how it works.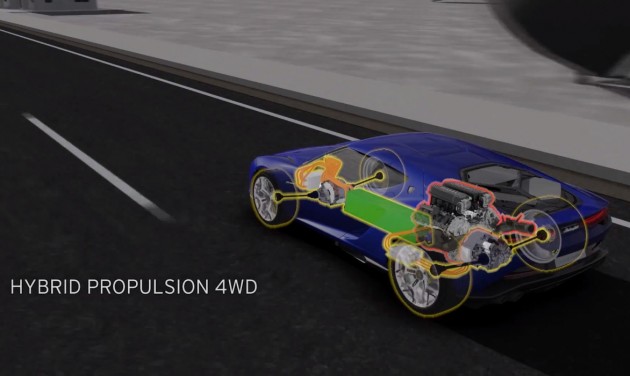 The Asterion concept was unveiled at the 2014 Paris Motor Show currently underway, showcasing a possible future direction for the supercar maker. It features the company's first-ever hybrid system, producing a very Lamborghini-like combined output of 669kW.
It is capable of driving on electric power alone. As the name suggests, the LP910-4 is all-wheel drive, however, in electric mode the Asterion is essentially a front-wheel drive. Well, at least up until speeds of 50km/h. This mode is accessible via the 'zero' button on the steering wheel.
When more power is required or when speed exceeds 50km/h the hybrid system seamlessly shifts into combined mode, drawing power from the electric motor and the 5.2-litre V10 sitting behind the cabin.
In combined mode the Asterion can accelerate from 0-100km/h in just 3.0 seconds. It can also hit a top speed of 320km/h. Despite the spectacular performance, the concept boasts a combined fuel consumption rate of just 4.2L/100km, producing 98g of CO2 per kilometre.
Before we get too exciting (or saddened) about the idea of a Lamborghini hybrid production car, the Asterion merely demonstrates the potential. It's understood the company isn't looking to introduce such a model just yet, instead, it is likely to be focusing on an SUV production vehicle.
Still, it is quite interesting to see such a flamboyant company come up with an economical package without losing the wild personality. Click play below to see the demonstration.