Do you want a car that's fast and raw, and one that provides you with a real man and machine concord? Maybe this video that has just been put up by KTM will provide you with an answer. It captures a KTM X-Bow RR lapping the Nurburgring in Germany in just 7:25.72.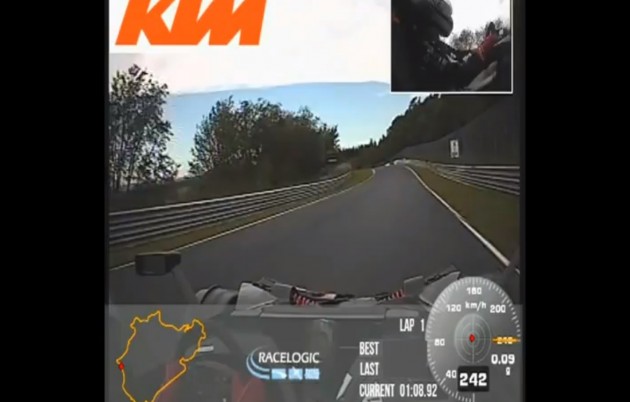 The astonishingly quick time makes it one of the quickest road cars to ever lap the treacherous 20.8km circuit. In fact, it puts it (according to wiki lap times) in equal 16th spot, just ahead of a Porsche Carrera GT (7:28), and just behind a 2011 Nissan GT-R (7:24). It's on par with a Ferrari Enzo (7:25.7).
The KTM X-Bow RR is a seriously bare-boned two-seater sports car – it doesn't even have a windscreen. There's lots of carbon fibre and fibreglass in its structure allowing it to be very lightweight – under 790kg – while the suspension and major chassis components are all focused on pure performance.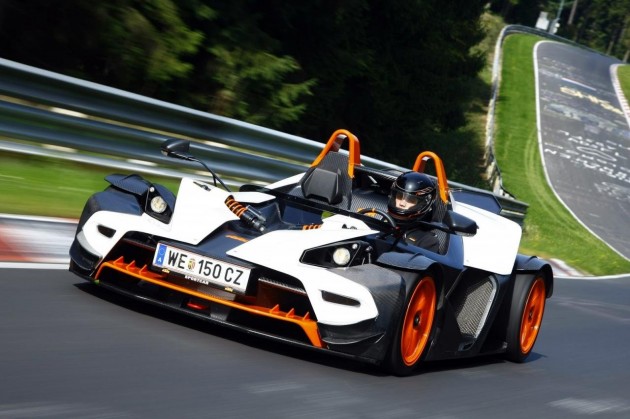 (Image above: KTM X-Bow R, not RR)
As for propulsion, it comes from an Audi 2.0-litre TFSI turbocharged four-cylinder engine producing 265kW. All that grunt is sent through a six-speed manual transmission and into the rear wheels.
Click play below to see how the lap went. You have to love the real-time telemetry, and the chirping wastegate sounds.