The Ferrari 458 Spider has to be one of the most beautiful modern-day Ferraris around, especially in this elegant pearl white and red interior colour scheme.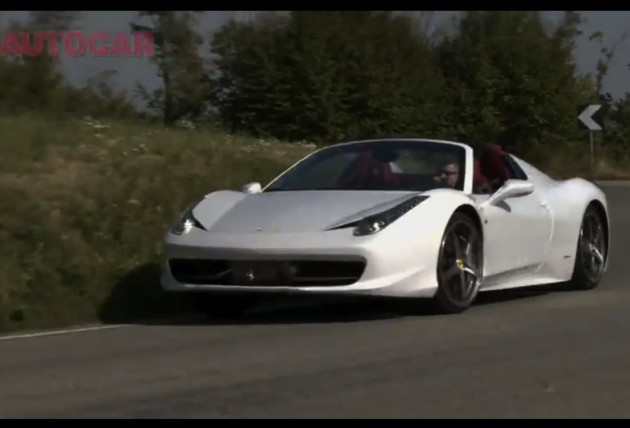 Ferrari launched the new Spider in Europe last week and Autocar were on hand to provide a full review of the new car, giving us a taste of its performance, and a glimpse of just how stunning the hardtop version looks out on the road.
Ferrari first unveiled the new Ferrari 458 Spider at the 2011 Frankfurt Motor Show. It features the same 4.5-litre high-revving V8 as the coupe, offering 419kW of power and 540Nm of torque. Thanks to a unique, space-saving roof design, the Ferrari 458 Spider weighs 1430kg, just 50kg heavier than the normal coupe version.
When a convertible is made, a certain degree of structural integrity and rigidity is lost. Engineers have to work a hard at keeping the body and chassis rigid as possible as there's no roof to connect the top half of the car together. To do this, various reinforcements have to be made, adding weight. With the Ferrari 458 Spider however, weight has been keep down thanks to the use of lightweight materials, while suspension has also been tweaked to maintain the 458's superb handling abilities.
By the sounds of the review, the 458's performance has not been hindered hardly at all with the Spider. Ferrari even says that the Spider version is less than half a second slower around the company's Fiorano test track compared with the coupe version. With a 0-100km/h time of just 3.4 seconds and a top speed of 320km/h, it's no wonder.
Australians can place their order for the new 458 Spider now, with deliveries set to commence in June next year. There is quite a waiting list though as Ferrari has sold out production capacity. This means local deliveries on orders just made won't be likely to come through until 2013. Australian pricing is also yet to be announced although a figure of around $600,000 is expected – around $75,000 more than the coupe.
Click play on the video below for the full Ferrari 458 Spider review for more details.