BMW has been spotted testing a prototype version of the upcoming BMW i8 plug-in hybrid sports car. The futuristic coupe will offer superior fuel economy while also boasting excellent performance thanks to a lightweight structure.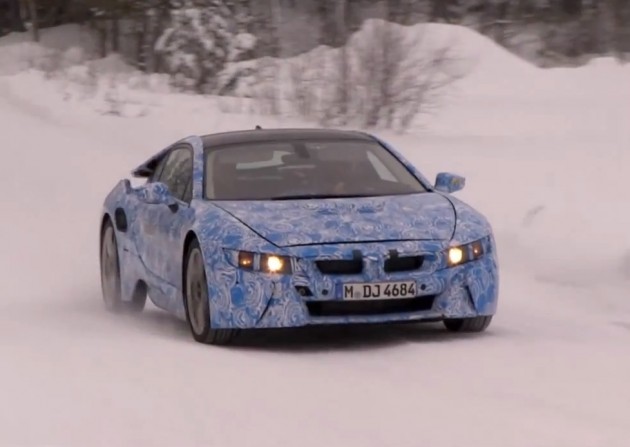 The BMW i8 project has been a long development. The company first revealed a concept version as a foundation back in 2009. From this video, you can see the eventual production car is likely to carry over plenty of those dramatic body lines and the super low-profile body.
As for the powertrain, it's understood the i8 will come with a turbocharged three-cylinder engine producing around 164kW of power and 300Nm of torque, like the concept version. This alone obviously isn't much to brag about.
Matched with an electric motor adding around 96kW and 250Nm, the i8 will be a quick machine. It's also likely to have the ability to drive on electric power alone for a restricted range.
With an expected combined overall output of 260kW and 550Nm, the BMW i8 is tipped to achieve 0-100km/h in around 4.6 seconds, with a top speed limited to 250km/h. Part of the performance will come thanks to extensive use of carbon fibre and aluminium in its construction.
Not only will the i8 be a quick machine, the i8 will also offer exceptional fuel economy. Like the concept version, the production car could have an average consumption of just 2.7L/100km.
The new model will go on sale in 2014. Click play below to take a glimpse.