A pair of TRD-enhanced concepts are on display at the 2015 SEMA show, based on perhaps two of the most common and conservative nameplates in the auto industry; the Corolla and Camry.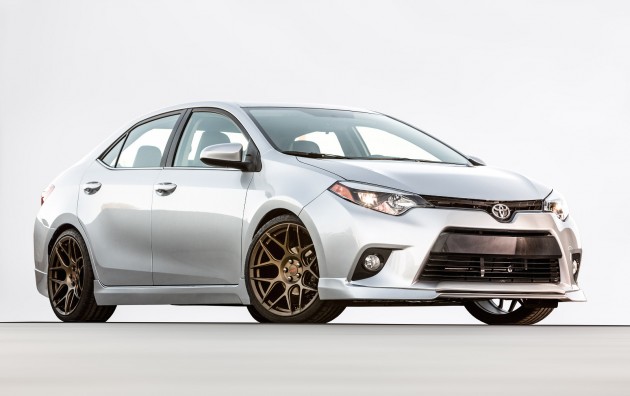 Yep, here is Toyota's take on what it could do for the humble Corolla and the family-friendly Camry. The company used its in-house tuning division to dress up the cars with styling and some performance salt and pepper.
For the TRD Corolla there's a very neat bodykit which actually gives the mainstream small car quite a likeable stance, including a front lip, side skirts, and a nice little diffuser at the back. There's also a set of 19-inch race-style alloy wheels coated in a bronze finish.
Unfortunately, a sports exhaust system and air filter is the gist of the performance upgrades. Toyota obviously has the pedigree and arguably the money to develop something really special but instead it has refrained from going further.
As for the Camry, it features a similar theme, with a neat bodykit, 21-inch alloy wheels, and some bespoke interior trimmings. A sports exhaust with dual tips has also been fitted up, along with a TRD sports suspension kit that lowers the mid-sizer by 1.5 inches.
It's a shame Toyota doesn't offer proper sports editions of its cars (aside from the 86) because these two certainly show potential. What do you think?