Toyota has revealed the cracking Hybrid-R concept, "for road and track". The Yaris-based concept features advanced technology derived from Le Mans, including a super-powerful powertrain.
This is probably one of the most interesting vehicles Toyota has created in the past few years. The president of Toyota has said he wants to make more "fun" cars, and this is certainly a step in that direction.
The Hybrid-R is like one of those crazy backyard conversions that you hear about where someone has fitted an epically powerful engine and all-wheel drive to a small car.
Up front, the Hybrid-R features a race-derived 1.6-litre turbocharged four-cylinder engine with direct injection, production, wait for it, 224kW. On top of that, two electric motors power the rear wheels for a combined overall output of 313kW. It's insane.
Performance figures such as 0-100km/h and the top speed of the little beast haven't been mentioned, however, you can immediately predict the sort of mind-boggling potential on offer here.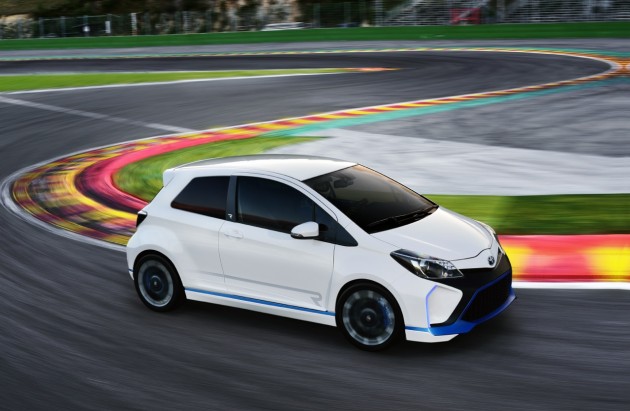 Thanks to a sophisticated drivetrain, power is distributed to the wheels according to the steering angle and available traction, providing maximum corner speed and minimal understeer. There's also a 'road' and a 'track' driving mode to make the best use of the complex drive system.
As for the styling, it looks modern and fresh, with blue and black highlights making it look like something from the future. It rolls on 18-inch TRD alloy wheels wearing 225/40 tyres, with huge six-piston front brakes sitting behind.
Toyota has no plans to put the micro machine into production. Instead, Toyota says it's simply "a showcase of ideas for the future development of hybrid technology to achieve maximum performance and increased driving pleasure". Hopefully we see some of this in future showroom models.
Petrol engine specifications:
Engine: 1595cm3
Fuel system: direct injection (up to 200 bar)
Air system: turbo Garett GTR2560R (max boost pressure: 2.5 bar)
Air restrictor: 33mm
Max power: more than 224kW (300hp) at 6000rpm
Max torque: 420Nm
Max RPM: 7500rpm