This is the production version of Toyota's all-new compact SUV, called the C-HR. Images have leaked out early just ahead of its official Geneva show debut.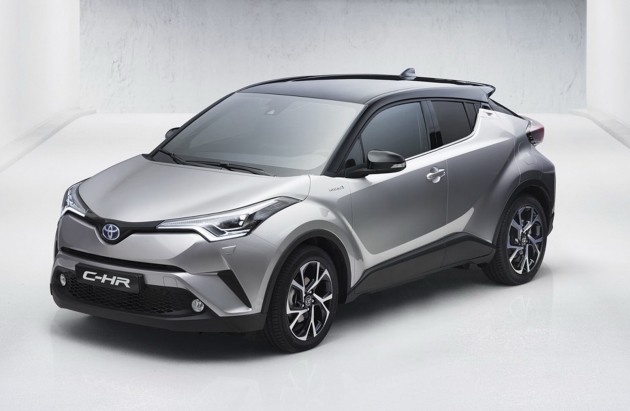 While many other Japanese and European carmakers are enjoying sales in the booming compact SUV segment, Toyota is yet to offer anything smaller than its RAV4. This is where the C-HR comes in.
It's inspired by the concept version of the same name that was revealed last year. Toyota openly said a production version is on the way and more recently confirmed its Geneva show destiny.
As you can see by these official images, the C-HR takes on a sporty front end with the company's new-look elongated headlights, a very slim grille, and vertical side intakes. The rest of the body takes the shape of a four-door coupe, with a swooping roofline and integrated rear spoiler.
Details on the powertrain are yet to be outlined, but it's believed it will be offered with a range of small combustion engines as well as a hybrid system similar to what is seen in the Prius v. This example shows Toyota's "HYBRID" badges on the front guards and rear.
Toyota will be selling the C-HR in various global markets later this year, and Australia has said it is on its wish list. It will compete against popular rivals such as the Mazda CX-3 and Honda HR-V. More details are expected any moment now.