It's a known fact – a sales fact – that large sedans aren't the desired item they once were. Travel back a decade or three and driveways all over Australia were filled with them. If you're in the market for a new car and qualities like space, comfort, and gutsy engines that make light of city sprints or long highway travels are on your list, the VF Commodore could be the car for you. Here are the top 10 reasons to buy a new Holden VF Commodore.
The Holden Commodore lineup looks like this: Evoke, SV6, SS, and Calais. The Evoke model comes with lots of standard kit for a base model, and believe it or not shares the same suspension and steering tune as the more expensive Calais. The Evoke uses a 185kW 3.0-litre V6, however, this model is more of a fleet option. For $1000 more you can step into the SV6, which offers a rev-happy 210kW 3.6-litre V6. The SV6 appeals to those who aren't keen on the extra asking price of the V8 SS models, with the six-cylinder model offering more than enough power to entertain.
All SS models come standard with a six-speed manual and 270kW 6.0-litre V8 engine, and offer an exceptional power-for-money ratio of just $159.22 per kW. Automatic SS models see power reigned in to 260kW and feature cylinder-deactivation technology for fuel-saving measures. The SS V Redline sits atop the Commodore range and is best-suited to those who enjoy performance driving, with both the steering and suspension tuned to enhance driver involvement.
The Calais and Calais V are positioned to please luxury-focused buyers with a classy-looking exterior and interior, available in either V6 or V8 guise.
All models are available as a sedan or Sportwagon, however Sportwagon adds $2000. If you want a Commodore with a manual transmission, you'll have to stick to the SS and SV6 sedan; both SV6 and SS Sportwagon models are six-speed automatic only.
Don't sign for that SUV just yet; here's 10 reasons why you should buy a Commodore.
Price – big car, not so big price
For the price of a low-specification Euro hatch you can bask in the roominess of a large car. The launch of the VF saw prices drop considerably over the previous VE model. Prices start from $35,490 for the base model Evoke, then jump to $36,490 for the sporty SV6, with the V8 SS model priced from $42,990. With the SS boasting 270kW from its 6.0-litre V8, its power-for-price is impressive. Luxury car buyers with a thin wallet will raise their eyebrows at the $40,490 starting price for the Calais, with the higher-spec Calais V starting from $47,990. Opting for the Sportwagon variant adds $2000 across all models; turning the large Commodore into an even more viable family workhorse.
Space – true five-seater
You never appreciate a large car more than when you're faced with the arduous task of seating four passengers, fitting in two prams, a week's worth of groceries and a gym bag. With a deep 496 litres on offer in the sedan (486 litres in the LPG model) and 895 litres in the Sportwagon, which turns into a huge 2000 litres with the rear seats folded down, the space becomes very handy. All Commodores can comfortably sit five elbow-flapping adults; the front two passengers are supplied with seats that resemble high-end movie theatre chairs, while the rear passengers are treated to a nicely-raked seat that's cosy across all three spots.
Driving a large car – easier than you think
Gone are the days of 'fling-flang' handling Commodores. The latest suspension tunes on offer across all Commodore models are very much on the money for each model's target audience. The SV6 and SS models offer a sporty feel, and the Calais and Evoke both ride smooth without compromising handling quality. The size difference between an SUV and large sedan is very close, with most SUVs around five metres in length and the Commodore range varying from 4919mm to 4939mm. If parking a large car has you worried, all Commodores now come with auto park assist; the car controls the steering while the driver operates the gears and accelerator.
World-class interior – fresh design, more advanced
The VF Commodore features a completely fresh cabin layout that screams modernity. The use of multiple textures and neat fitment throughout the cabin adds to the car's interior quality. All of the controls you could want are at arm's reach for the driver. The new seats are well-padded items that offer loads of support and comfort, whilst also looking very trick. Overall the cabin has a premium feel to it no matter the variant. Depending on the model, the interior can be had in two different sets of colours; a light cream and grey or black and dark grey.
MyLink touch-screen interface – class leading infotainment
Holden's MyLink infotainment eight-inch LCD touch-screen sits proudly in the centre of every Commodore dashboard. Not only is it the most impressive system we've ever seen in a Holden, it's also one of the easiest and most advanced systems in this class. MyLink pools all of the car's on-board functions and settings into one unit. It comes standard with Pandora and Stitcher application-based music players, Apple-friendly Siri Eyes, Bluetooth, and USB/MP3 playback. All models except the base model SS, SV6, and Evoke come with satellite navigation as standard – otherwise a $750 option.
Interstate trips – your elbows and knees will thank you
If you've ever travelled the 1000kms-plus between Australia's major cities, you'll know all too well that a well-padded seat and room to twirl the ankles creates a more joyful journey. The powerful engine options across the board means you won't be holding up traffic when the hills come charging, and the planted-feel of a large sedan means you won't feel like you're being blown off the road when a road-train comes flying by.
Buying Australian – supporting local industries
With the Aussie-built model set for retirement in 2017, it's about time we got sentimental. Here's a car that's been around since 1979. If you were born on or after that year, there's a good chance you were driven home from the hospital in one. While there's nothing wrong with buying a car that's made offshore, the positives of buying a locally-made vehicle spread well beyond paying local workers to build it,  you're also helping to prop up companies that supply parts and services. In the same way you hear people talk about the good old days, the days of buying a spacious sedan with stick shift and a stonking V8 for less than the average annual Aussie wage are numbered.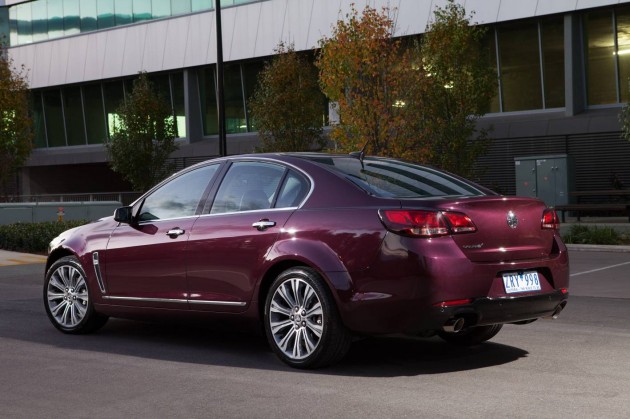 Caprice upgrade – not just for politicians
With the Statesman nameplate now retired, the Caprice carries the flag as the biggest, most luxurious Holden on offer. The large barge from Holden actually makes a solid proposition as a family chariot. With added legroom over the Commodore and a boot that's big enough to sleep in (531 litres), one thing you'll never complain about is space. Two options are available; Caprice and Caprice V. The Caprice comes equipped with a 3.6-litre LPG-only V6 that produces 180kW, while the more luxurious Caprice V shares the SS's automatic-spec 260kW V8. As far as driving dynamics are concerned, the long-wheelbase Caprice offers up a composed ride that feels tight enough to punt through a series of bends, but will also keep your coffee from spilling when cruising down the freeway. Kids will be hugely entertained by the rear TVs mounted in the headrests of the Caprice V, leaving you with more time to focus on driving. Prices for the Caprice start from $54,990.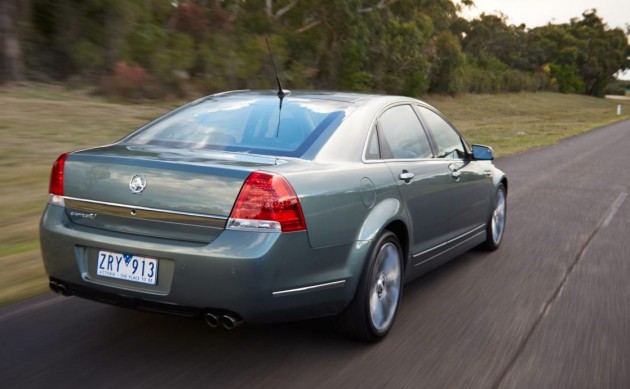 V8 Performance – aftermarket tuning
The 6.0-litre V8 LS series engines found in the SS models are a great platform for making good old-fashioned horsepower. Tuners nationwide have tried and tested just about every performance modification you can do to the SS; turbocharging, supercharging, cam upgrades, free-flowing exhausts, intakes, ECU tuning and more. There's also a host of aftermarket performance companies that do brake upgrade kits, clutch upgrades, suspension upgrades, and also loads of wheel and body kit options. A standard SS Commodore is like having a blank canvas to create your very own take home 'V8 Supercar'. How much power can you extract from 6.0-litre SS engine? It really depends on what route you go down, but anywhere from 300kW to 500kW plus – the sky is pretty much the limit.
Buying power – now is the time to get into a Commodore
With SUVs selling like hot cakes, never has there been a more competitive time to get a discount on a Holden Commodore. If you've read our tips and think a Commodore might be a great option for your next car, don't be fooled with special offers and high interest loans; we can help get you into a VF Commodore for fleet prices. Save yourself from the stress of driving from dealer to dealer; we can help you arrange a quote that will only take seconds of your time. Like when buying anything new in life, you need to make sure you're getting the best deal, otherwise you could be robbing yourself of money. There's no tricks, or hidden surprises. You don't even have to leave the house; your new Commodore – whether it be the athletic SS V Redline or the luxurious Calais V – can be delivered to your door complete with a free tank of fuel. Simply fill in the form from our friends at CarLoans.com.au for the best loan quote, or click here to get the best deal in your area.
Do you think the Commodore is still a viable option in today's car market? Tell us your thoughts in the comments section below.