Although this show is usually home to many glorious and glamorous spectacles, including plenty of world-first unveilings, we got the feeling the 2019 Geneva Motor Show had a certain supercar theme to it. Here are just a handful of what were think are the craziest and most interesting.
Koenigsegg Jesko
How about we start with the most powerful internal combustion engine production car ever made. The Jesko is named after the company founder's father, and has the potential to become the fastest road-legal car in the world. Its 5.0-litre twin-turbo V8 produces a colossal 1600hp (1194kW) on E85 fuel, using two turbos running at 31.9psi. A 'mild' tune of 955kW (1280hp) running just 17psi can be activated with regular fuel. It's not just about power though. The Jesko debuts an all-new type of multi-clutch automatic gearbox that Koenigsegg is calling a "Light Speed Transmission". It is capable of changing gears, up and down, at, essentially, the speed of light. The top speed hasn't been tested yet, but the company estimates a peak of over 483km/h. That's 300mph.
Gumpert Nathalie
This is a new German electric sports car built under partnership between Roland Gumpert (former Audi Sport boss) and Chinese Aiways Group. It features two electric motors that provide between 300kW and 600kW of power, with a 0-100km/h time of under 2.5 seconds and a top speed of over 300km/h. At 50mph (about 80km/h) the range is listed at an impressive 853km. Most interesting of all though is a 5kW methanol-driven fuel cell system, which takes just 3 minutes to refuel. The coupe looks quite nice and well-proportioned too, with a side profile somewhere in between a Nissan GT-R and Chevrolet Camaro.
Zenvo TSR-S
This is the Danish company's new street weapon. It's actually a 'street' version of the TSR track car, and it's powered by a monster 5.8-litre twin-supercharged V8 engine that churns out 878kW. All of that is sent through a seven-speed sequential gearbox with rear-wheel drive. Zenvo says 0-100km/h can be achieved in 2.8 seconds, but we doubt any human being could get the power down well enough to achieve that. It'll also do 0-200km/h in just 6.8 seconds, which is even more impressive. At the rear you may have noticed the big wing. That's actually a patented design called a 'Zentripetal Wing'.
GFG Style Kangaroo
You may not have heard of it but it is something you may want to know more about. The design is by Giorgetto Giugiaro; the firm behind the original Alfa Romeo Giulia, the original Maserati Ghibli, the Ferrari 250 SWB Bertone, and even the Bugatti EB 112 and 118, to name a few. Power comes from two 180kW electric motors by Chinese company CH Auto, with a 90kWh battery. The company says the car can be used on not only the track like a traditional supercar, but also on the dirt and sand like a high-speed off-roader. Off-road capability comes thanks to an adjustable ride height that can be lifted to 260mm (more than most 4×4 dual-cab utes). Across the 0-100km/h sprint the clock stops in 3.8 seconds (on tarmac, we presume), with a top speed 250km/h.
GFG Style Sibylla Concept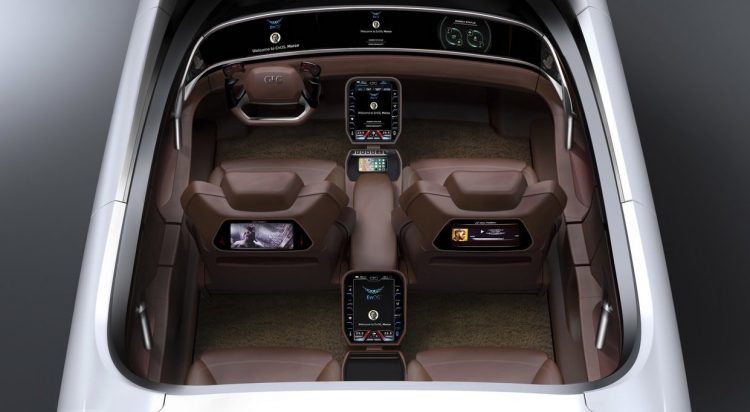 GFG Style (standing for Giorgetto Fabrizio Giugiaro, a father and son team) came up with two crazy concepts for the Geneva show. The second, following the Kangaroo, was this Sibylla Concept. It's an electric vehicle as well, but it's pitched as more of a four-seat grand tourer. Every passenger has their own digital touch-screen, with two more screens for the middle console in the front and rear. Power comes from a 100kWh battery that provides 400kW, and a 0-100km/h dash in just 4.5 seconds. Nice. Look out, Tesla Model X.
Hispano Suiza Carmen
This is another interesting one. It's a throwback to classic designs, and in fact a tribute to classic cars that the Spanish company, Hispano Suiza, used to make before World War II. Unlike the classics though this new Carmen is powered by electricity. Specifically, it uses two electric motors, with one for each rear wheel. They combine to produce a neat 750kW. There's no mention of 0-100km/h times and the top speed is limited to 250km/h. But sheer speed is not what the Carman is all about. This is an elegant cruiser and a machine that can be admired simply standing still.
Automobili Pininfarina Battista
It is one of the most iconic and storied names in the automotive industry, responsible for some legendary car designs. Now, Automobili Pininfarina is planning to build its own supercar, called the Battista. Extravagant, is one way to describe it. Power comes from a fully electric system comprising of a 120kWh battery, with motors producing an unbelievable 1397kW, otherwise known as 1874hp. Just say that out loud. Intense. As a result, the Italian firm is projecting a top speed of 350km/h, and a 0-100km/h sprint in less than 2.0 seconds. This is all wrapped up in a stunning supercar design featuring a carbon fibre construction. This is not just a concept, either. The company is planning to make 150 of them for the market.
Bugatti La Voiture Noire
We can't possibly do a 'top 10 crazy cars' feature without mentioning a Bugatti of some sort. And for the 2019 Geneva show, Bugatti pulled out something very special indeed. A one-off build called the La Voiture Noire. It's essentially a Chiron underneath, which is no ordinary car itself, but the body and the interior have been completely redesigned. A lower and wider design creates the impression of a frog that's ready to pounce. Power comes from the same 8.0-litre quad-turbo W16 seen in the Chiron, generating 1103kW. There's no mention of the top speed, but we still don't know the offical top speed of the Chiron either. From factory the Chiron is electronically limited to 420km/h, but nobody has attempted a run with it removed.
Aston Martin AM-RB 003
Aston Martin unveiled a trio of scintillating concept cars at this year's event, including a Vanquish Vision supercar, a Lagonda SUV, and this, our favourite of the three, the new AM-RB 003. This is set to slot just beneath the upcoming Valkyrie hypercar. Hardly any specific details have been released as yet, only that it will come with a hybrid powertrain featuring a turbo combustion engine. The car features some crazy aero technology, including a rear wing that uses something called FlexFoil. Aston Martin says the clever wing has been 'validated' by NASA. We don't know what that means exactly but it definitely sounds cool, and we want one. Aston Martin is planning to produce 500 003s.
Puritalia Berlinetta
This was a hidden gem at the Geneva show this year, and one of our overall favourites of the event. It's called the Puritalia Berlinetta. You might recognise the name. Back a few years ago the Italian firm built a 427 V8 sports car. This is totally different though. Firstly, check out that sexy coupe shape. It has the curves and long bonnet of a traditional sports car, and even an extremely powerful (559kW) V8 under the bonnet. But there's more. An electric motor assist system is also hooked up. Combined, they all produce an insane 720kW (965hp) and 1250Nm. This is sent through a seven-speed automated-manual transmission. Accelerating from 0-100km/h takes just 2.7 seconds, while the top speed is 335km/h. It all sounds like such an awesome recipe to us. Puritalia is planning to build just 150 examples.
Check out the gallery below for more images on each car from the 2019 Geneva Motor Show. We've organised them in the order of the list above.