An absolute bumper year for the pickup/utility segment, where almost every participant received an overhaul or facelift. This translated to a market share which held steady rather than the massive growth, like one might have expected.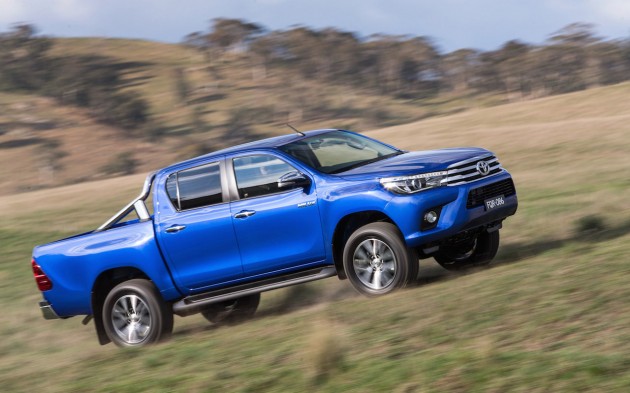 Although the HiLux took overall honours yet again, the biggest winner was Ford's Ranger, with 23,436 registrations in the 4×4 component (remember there are two components of the Commercial Vehicle ute sector; 4×2 and 4×4), breathing down the Luxy's 25,939.
The 4×2 segment held steady, with 40,657 registrations (3.5 per cent total market share) last year, compared to 41,807 the year before (3.8 per cent).
The story is more-or-less the same in the 4×4 arena, with 134,003 (11.6 per cent) to 133,566 (12.0 per cent). Interestingly, demand held steady for our local heroes, the Ford Falcon Ute and Holden Ute, despite their imminent demise. Showing, that to some, even in a fragemented and super-competitive market, the Australian ute still has its place.
See below for the top 10 best-selling light commercial utility vehicles overall year-to-date for 2015. Combined 4×2 and 4×4 ute sales can be viewed at our December 2015 sales report from earlier today.
Top 10 4×2 utility vehicles sold in 2015:
1. Toyota HiLux – 9222 (down from 10,807/-14.7% from 2014 YTD)
2. Ford Ranger – 5749 (down from 5945/-3.3%)
3. Holden VF Ute – 4936 (down from 5596/-11.8%)
4. Mazda BT-50 – 4820 (up from 4739/+1.7%)
5. Mitsubishi Triton – 4543 (up from 4266/+6.5%)
6. Isuzu D-Max – 3339 (up from 1752/+90.6%)
7. Ford Falcon Ute – 2654 (down from 2785/-4.7%)
8. Holden Colorado – 2557 (down from 2887/-11.4%)
9. Nissan Navara – 1625 (up from 1287/+26.3%)
10. Volkswagen Amarok – 915 (up from 569/+60.8%)
Top 10 4×4 utility vehicles sold in 2015:
1. Toyota HiLux – 25,939 (down from 27,319/-5.1%)
2. Ford Ranger – 23,436 (up from 20,674/+13.4%)
3. Mitsubishi Triton – 20,795 (up from 19,990/+4.0%)
4. Holden Colorado – 15,963 (up from 15,161/+5.3%)
5. Nissan Navara – 12,272 (down from 14,793/-17%)
6. Isuzu D-Max – 11,301 (up from 10,297/+9.8%)
7. Mazda BT-50 – 8680 (up from 8312/+4.4%)
8. Volkswagen Amarok – 7630 (down from 7,716/-1.1%)
9. Toyota LandCruiser 78 – 6544 (down from 7,306/-10.4%)
10. Foton Tunland – 905 (up from 448/+102%)