Some cars change your life, while others, such as the Tesla Model S P85+, change your thinking and have the potential to change the world.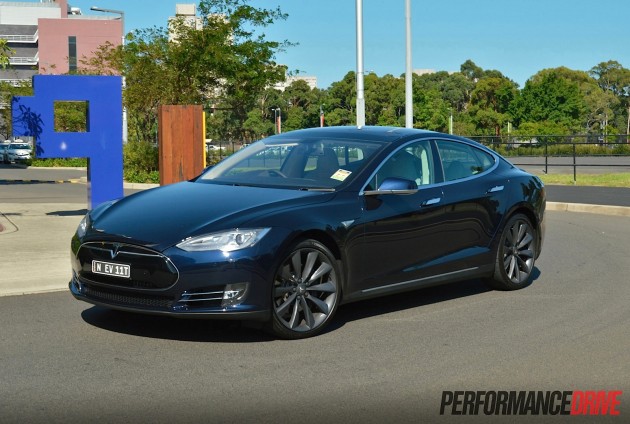 If someone told us 10 or 15 years ago that there would be a sedan, a practical and comfortable and quite luxurious sedan, on the market soon that could do 0-100km/h in just 4.4 seconds, while using zero petrol or diesel, we would have suggested that someone check into a mental clinic.
This car you see here is actually that myth. At least, on paper, that's the way it seems. The specs say this modern yet quirky-looking large sedan produces 310kW of power and 600Nm of torque. It's rear-wheel drive and offers seating for five. It also has two boots and uses zero petrol.
Okay, so what is it? If you haven't heard of Tesla, basically, it's a forward-thinking car company based in California that produces only fully electric vehicles. The Model S is the second model the company has made, built from the ground up as a completely bespoke model (aside from some Mercedes-Benz switchgear).
The P85+ is the top-of-the-range version. But not for long. Soon, it will be superseded by the almighty P85D (also known as the quickest production sedan in the world). The P85D gets a dual-motor all-wheel drive powertrain. For now we all have to make do with the single, rear-axle-mounted electric motor of the P85+. It offers a full-charge range of approximately 500km, with recharging taking about one hour with a super-charger unit.
Prices kick off at $133,257 for the existing P85+, while the P85D, according to the local Tesla website, will start from $140,900 (available in June).
Tesla Model S P85+ – THE SPECS
Engine: Rear axle-mounted electric motor
Output: 310kW@instant / 600Nm@instant
Transmission: Single drive
Drive type: Rear-wheel drive
Tyres: F: 245/35  R: 265/35, 21-inch 'Turbine' (optional – 19s standard)
Safety: Five stars (Euro NCAP)
Kerb weight: 2100kg
Power-to-weight: 6.5:1 (kg:kW)
Official fuel economy: 0L/100km
Economy during test: 0L/100km
Battery/Range: 85kWh/Approx. 500km
0-100km/h as tested: 4.4 seconds
Priced from: $133,257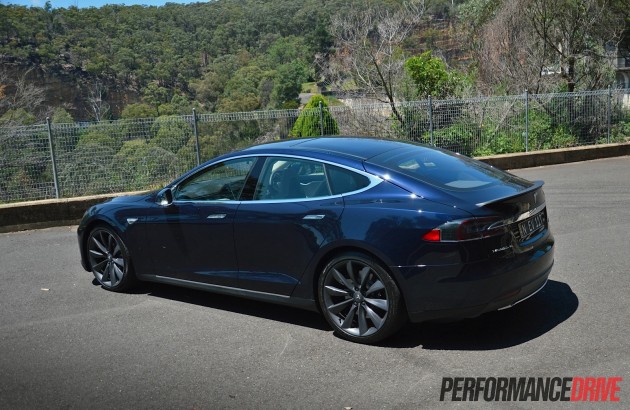 Tesla Model S P85+ – THE PACKAGE
All of the amazement starts when you jump inside. Starring back at you from the middle of the dash is easily the biggest touch-screen interface we've ever seen in a production vehicle. It's so big, in fact, it leaves all other buttons on the dash without a job. So there are no buttons; it's all within the 17-inch screen and accompanying computer sitting behind it.
From the screen you can access everything, including internet radio and songs on demand (excluding Metallica songs, it turns out), as well as adjust and configure all of the on-board settings from brake regeneration force to ride height to setting reminders in your calendar. Fortunately, all of these settings can be streamlined thanks to a user profile; one for you and one for your other half. The user profile also stores mirror adjustment and seating position.
The massive interface comes with sat-nav, of course, but it's not your usual sat-nav. It's connected up to Google maps. This means it remembers places and can even point out specific shops and places to eat. It's so smart it can even remember if you raised the suspension pulling into a particular driveway and it will automatically raise it again the next time you visit. You need and tend to want to spend a lot of time just sitting in the car, fiddling with the options.
Aside from the centrepiece, the rest of the interior is actually very simplistic and clean. There's lots of space around the floor and centre console, with a totally uncluttered dash design. For the driver there's an entirely configurable LCD instrument cluster, and a basic column shift gear selector (borrowed from Mercedes) with P, D, R and that's it. The power window buttons are on the driver's door (also borrowed from Mercedes).
It's an extremely pleasant vehicle to sit in. Rear seat space is ample, with three big seats and an almost completely flat floor with limited intrusion from the driveshaft tunnel. Front passengers get a load of legroom as well, however, the centre console is just a big bucket of space. We think it could benefit from some dividers or a compartment or something to stop your things sliding forwards and back at every traffic light.
Tesla has gone to extra lengths to ensure the cabin feels luxurious and up to the par of a $100k-plus large sedan. There's lashings of Nappa leather and Alcantara, optional carbon fibre, and lots of aluminium. We love the hand-polished zinc doors handles that automatically retract for aerodynamic efficiency, and the completely flat titanium underbody. All materials are apparently sourced as near as possible to Tesla's factory in California too, to reduce the overall carbon footprint of manufacturing. Nice.
This is the cleverest car we've ever seen and it's hard to fault the overall package. As a bonus for buyers, there aren't so much as facelifts or series 2 models being planned. Instead, Tesla releases software updates which the car can download when parked in your garage (automatically connecting to your Wi-Fi). As such, an update has just been released, called version 6.1. It includes a clever function called Autopilot. We haven't tested this system but it brings a whole suite of automated driving skills including auto parking and even the ability for the car to open your garage and reverse out to the curb all by itself. The speedo will also be changed to a more Australian configuration with 80km/h and 110km/h points, instead of 90 and 120. All of this is changed without you needing to do anything, except hit update.
Tesla Model S P85+ – THE DRIVE
Okay, so you're sitting in the cabin. It's whisper quiet, even for a high-end luxury vehicle. To 'start' the car all you do is put your foot on the brake pedal. You don't hear anything except a very faint electrical sound, similar to the sound your computer makes when you wake it from sleep mode. The instrument cluster lights up. You then put it in 'D'. Still no sound. Apply the throttle and it starts to move. If you haven't driven an electric vehicle before this can be a very interesting and somewhat surreal experience. You can customise the drive so it is more like what you're used to. For instance, you can apply a roll forward function for when you lift your foot off the brake – in default mode the car just sits peacefully without moving.
Poking around town, the car behaves well as a luxurious, smooth, and comfortable sedan. It does feel heavy, and it is at 2100kg, but in normal conditions it means there is a reassuring solidness to it. The steering is confident and offers satisfactory communication, and the ride is compliant and perhaps more on the sporty side. It feels like it's on rails. You don't have to worry about the engine lagging or struggling with the weight though. The car moves precisely in accordance to your throttle position, regardless of weight or, seemingly, the laws of physics. From zero rpm there is 600Nm available, which actually feels more like 800Nm-plus.
As a sports sedan things are a little different. We wouldn't call this the most nimble or energetic handler in this segment. As we mentioned, it is very solid on the road. If you drive at 80 per cent, you'll enjoy the super-flat body composure and the awesome grip from the Michelin Pilot tyres. You'll also love the instant throttle response and unforgiving acceleration in between corners. If you drive it at 90 per cent or more, it's not so rewarding. That weight becomes more and more apparent as you try and tip it into corners, especially tight corners, and the brakes do begin to fade. The satisfactory steering is also not as enjoyable as other offerings in this class when driven in this manner.
Really, though, you're not going to be driving at 90 per cent every time you go out to the shops or to work. You can always enjoy the acceleration in between lights. The power delivery is immensely forceful. Nail the throttle off the mark and the performance will push your head back into the seat no matter how hard you try and tense your neck muscles to resist. We timed 0-100km/h in 4.4 seconds, which is about as quick as the 430kW HSV GTS. But with the instant throttle response, it is like no other car we've ever driven. It's a remarkable driving experience.
Tesla Model S P85+ – THE VIDEO
Tesla Model S P85+ – THE VERDICT
We love this car. We're a huge fan of high-revving engines and explicit exhaust sounds. However, as an overall package it's impossible to ignore the capability, the performance, and the sheer technology of the Model S. It is an incredible car and an important step in the evolution of the automobile. Did we mention it uses no petrol at all? Imagine never needing to go to a petrol station ever again. We drove all day on a single charge and covered about 400km, with 90km range still left when we handed it back.
Tesla offers a four-year/unlimited kilometre warranty with the P85+, and with the constant updates being sent out it would be quite exciting to see what changes and innovations are handed out next. We wouldn't recommend buying this car though. We'd suggest waiting for the epic P85D to arrive in June. Start saving. We are.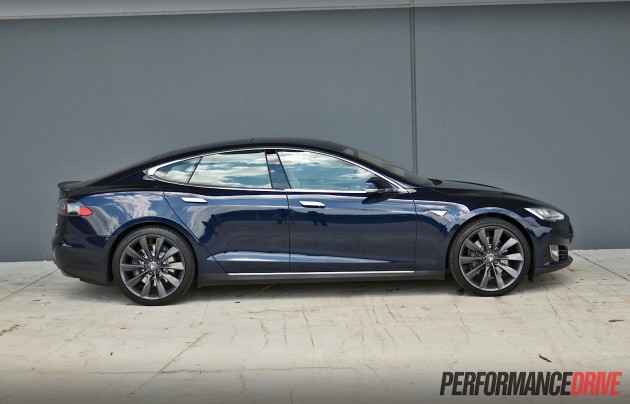 PROS:
– Immense instant thrust
– Simplistic yet luxurious interior
– You've gotta love that huge touch-screen
– Fewer trips to service centre; system updates via home Wi-Fi
– Reasonable price for an extremely quick, large luxury sedan
– 1hr recharge with super-charger
– Almost everything is adjustable; suspension, brake regeneration force, user profile

CONS:
– Some minor interior rattles and creaks
– Open diff (LSD not possible with electric motor)
– Handling almost too solid/planted; heavy