Subaru has announced the next Subaru Impreza WRX will be sold as a separate model from the Subaru Impreza range, meaning it will be called the Subaru WRX only.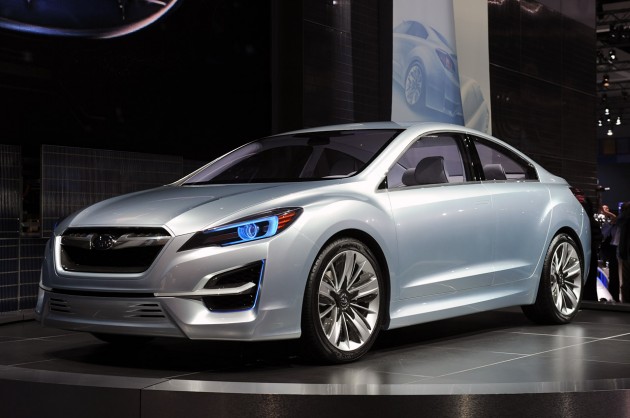 (image of Subaru concept car)
The next-generation 2012 Subaru Impreza, recently unveiled at the 2011 New York Auto Show, is expected to dominate Subaru sales for the next two years, until the new Subaru WRX debuts in 2013 as a MY2014.
The new WRX will step away from the Impreza brand, allowing the Impreza to focus on being competitive in the small-to-medium size sedan and hatch market, powered by a naturally-aspirated 2.0-litre boxer engine. The Subaru WRX will then be more of a focused performance machine.
According to a Subaru source hardly any components will be shared between the two models, saying in a recent Motor Trend report,
"Apart from a few nuts and bolts, every part on the WRX will be unique. Even the engine and body. Obviously the WRX's platform will be inherited from the new Impreza, but it will be radically modified and significantly shortened."
The source said that one of the reasons the split will take place is because the Impreza has always been developed with the WRX in mind, which meant the standard Imprezas were developed beyond expectations, costing Subaru money. The source said,
"Up until now, the Impreza and WRX used many common parts, which translated into entry-level Imprezas that were over-engineered."
This move will be a very interesting layout in Subaru's lineup, as it will allow engineers to take the Impreza platform even further than the current top-spec STI. Interestingly, the source also said since the new Subaru FT-86 version will be brought out alongside the WRX, engineers have been given the all-clear to go nuts on the hardcore STI version. The source said,
"If the truth be known, we were able to focus so deeply on the motorsports element with the new WRX because we developed a sister car with the Toyota FT-86. Bosses gave us permission to go all out because that car exists."
So it should be good to see how it all turns out in the end. What do you reckon, a good move by Subaru? If this relieves engineers of restrictions, allowing them to go all-out, surely this is a good thing?
Source: Motor Trend