The Subaru BRZ Concept STI has been revealed as a preview to its 2011 Los Angeles Auto Show debut later this month. This is the first time a Subaru version of the Toyota FT-86 has been shown.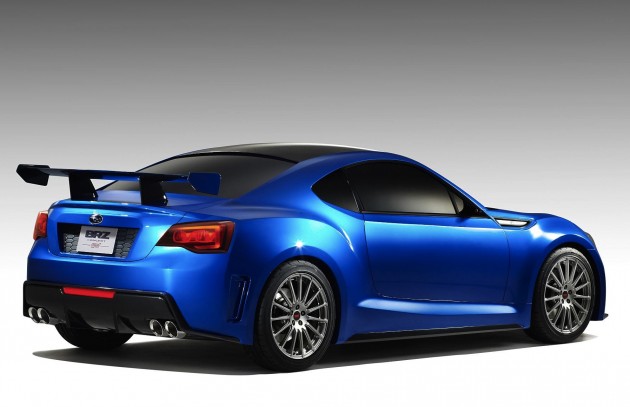 Although this is a Subaru BRZ Concept STI version, it does give us a hint of what the production car will look like. At the rear there's muscular styling cues as seen on the Toyota FT-86 production car, with this Concept STI version also getting a large rear wing, quad exhaust outlets and Brembo brakes.
Official engine specifications are yet to be released. It will comprise of a 2.0-litre boxer engine with direct injection though, as seen in the Toyota FT-86.
There were rumours going around saying that the Subaru version will be more powerful than the Toyota. According to a recent Auto Bild report, the BRZ will offer 157kW and 230Nm. The report also claims 0-100km/h will be dealt with in 6.0 seconds.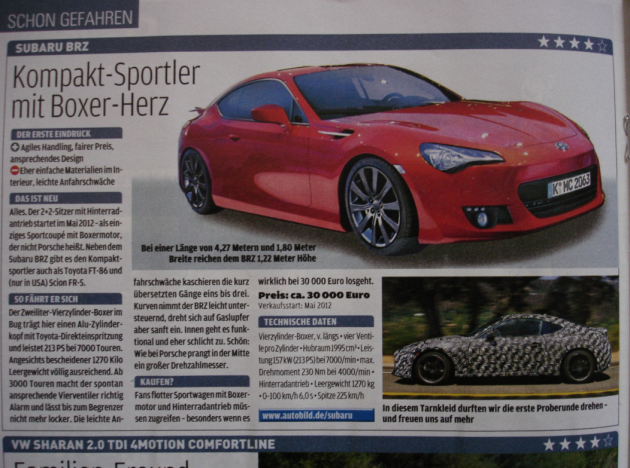 The other likely option is the same specification engine as seen in the Toyota, with 147kW of power and 205Nm. The Subaru will be rear-wheel drive and come with a six-speed manual transmission and limited-slip differential.
More details are expected to be revealed at the Subaru BRZ Concept official unveiling at the 2011 Los Angeles Auto Show, starting November 16 (press day) and November 18 (public). Production is set to commence during the first half of 2012.
Subaru Australia is yet to confirm whether or not the BRZ will make its way Down Under. One of the reasons it might not join the local lineup is due to the car not falling within the brand's all all-wheel drive marketing strategy. Stay tuned for more updates.