Check out this cool concept. It's called the Genesis Essentia concept and it recently made its debut at the New York auto show, commencing last week.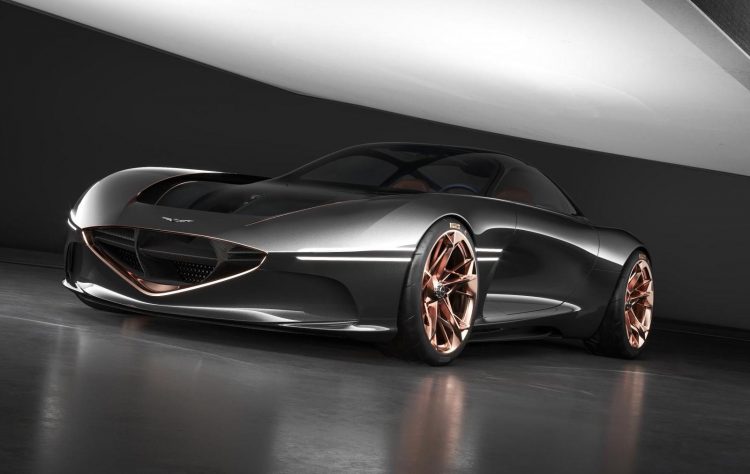 The Essentia concept is the company's first battery electric vehicle and it gives us some indication of the future design language of the luxury Hyundai-owned brand. More specifically, it potentially previews an upcoming GT car from Genesis.
Striking you instantly is the 'Athletic Electric' design language, which showcases a low-slung, elegant and long body profile, with a traditional long bonnet and swept-back cabin area. It's all coated in Stardust Grey Metallic for that cool, sinister look, with bronze highlights.
At the front you might notice the Genesis Quad Lights design, first introduced on the QV80 concept car. It uses laser optical technology allowing for very thin, flush-mounted headlights. There's also aero side blades, intakes beside the Crest Grille acting as air curtains, and air outlets behind the front wheels.
Underneath it all is a carbon fibre monocoque and carbon fibre body, helping to keep weight to a minimum, and rigidity and driving dynamics to a maximum – check out the crazy construction of the doors. Through the transparent bonnet you can see some of the carbon fibre platform as well as the racing-like pushrod suspension.
Power comes from a fully electric system using multiple electric motors. Power figures haven't been mentioned but Genesis estimates a 0-60mph (97km/h) time of 3.0 seconds, which suggests it packs a lot of power indeed.
Behind the scenes, the Essentia features advanced vehicle-to-infrastructure connectivity and vehicle-to-vehicle technology which helps provide up-to-date information on the road and driving conditions ahead. This system is also capable of providing the quickest and most efficient routes in real-time, while also taking into account the driver's inclinations.
Passengers are also treated to an expansive digital interface. The concept won't go into production as is, however, Manfred Fitzgerald, global Genesis boss, has told media he is pushing for production. In a recent statement, Fitzgerald said:
"We understand our obligation as a luxury car manufacturer to create objects of desire, sparking passion and inspiration by emphasising a culture while exceeding expectations in terms of technology and connectivity, bringing our outside world seamlessly to the inside of the vehicle. "This is what the Genesis Essentia Concept is all about, and we are thrilled to introduce our interpretation of an all-electric, two-door Gran Turismo here in New York."