Sick and tired of owning a 'standard' Bentley Bentayga that looks like all of the other Bentaygas that are out there? STARTECH might have something to resolve your calamity.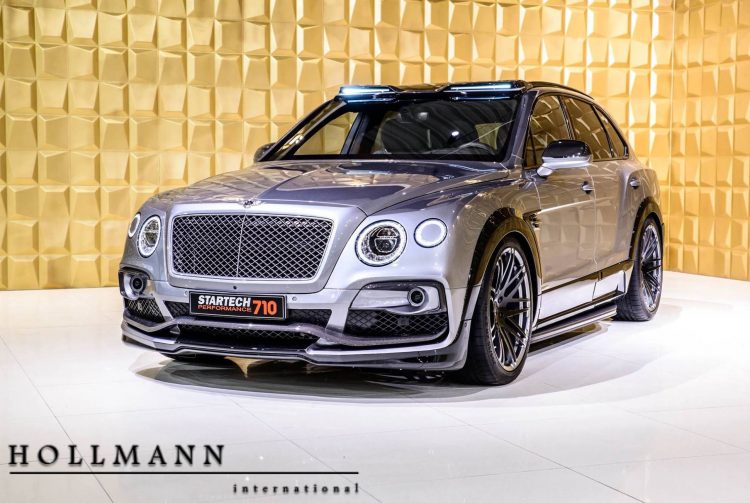 The German tuning arm first came up with an aftermarket package last year, but it looks like a more extensive package has now been finalised, with images recently posted onto the STARTECH Facebook page. The kit covers most areas of the SUV, including the exterior cosmetics and powertrain.
Starting with the engine stuff. The factory 6.0-litre twin-turbo W12 engine receives ECU tweaks, providing an extra 75kW of power and 170Nm of torque. This takes the overall figures to 522kW and a whopping 1070Nm.
There's no mention on performance gains in terms of the standard 4.1-second 0-100km/h time, and the once record-holding top speed of 301km/h, but we're sure owners would be impressed by the improvements.
To make sure the style matches the performance, STARTECH has designed a wide-body bodykit with black-highlighted wheel arch extensions, matching side skirts, and a matching front lip spoiler. A neat lip spoiler is added to the rear as well.
There's also a redesigned front bumper bar with a much more complex set of intakes and mesh grilles, while around at the back is a chunky diffuser section with quad exhaust outlets for that racy look.
You may have noticed the Bentayga rides lower than the standard model, and that's because there's a custom suspension package that lowers the SUV over set of 23-inch alloy wheels. The wheels wear 295/35 tyres, boosting the overall stance of the super-lux SUV.
With prices for the Bentley Bentayga starting from AU$624,400 for the 6.0 TSI in Australia, these STARTECH aftermarket revisions are likely to be expensive but not in the eyes of the typical Bentley owner.