It might not be the most highly regarded vehicle brand out there but SsangYong is catching up, and could potentially be the next Kia if it keeps going like it is.
Last month, SsangYong managed to increase its overall sales by 18 per cent compared with the same month in 2011, with thanks to the sporty Korando SUV, and the Actyon Sports dual-cab ute range. July 2012 comprised of 70 Korando sales, and 65 sales of the Actyon Sports ute (44 4×2 and 21 4×4).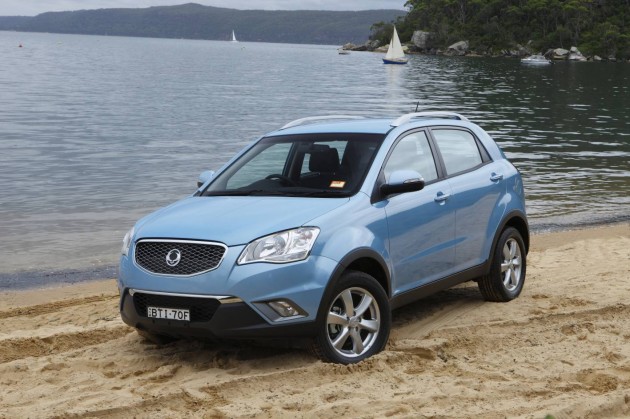 Sales on a year-to-date basis have also increased, with the company selling 30 per cent more vehicles so far this year compared with the same period last year. Up to 1001 SsangYongs were sold, up from 770 during the same period in 2011.
Steven Thomas, national sales and marketing manager at SsangYong Australia, recently said,
"The launch of the Korando in 2011 was a key milestone for the brand, giving us a great value-for-money option in the compact SUV market and our offering has remained very competitive. As a result there was a lot of expectation around the Actyon Sports Dual-Cab ute launch in March 2012 but our figures for June show that we have delivered a vehicle that meets the demands of the customer."
As we found out earlier in the year during our 2012 SsangYong Actyon Sports SX review, the company is capable of building a respectful vehicle. With decent build quality including a good use of interior materials, as well as a very fuel-efficient turbo-diesel engine for its class, we can see why consumers are buying them. Thomas says,
"We recognise that we still have some way to go but our volumes are increasing at a steady and healthy rate and act as a testament to the fact that we're producing vehicles with the customer in mind. For consumers who are looking for that value for money proposition, Ssangyong delivers."
SsangYong will launch the new Rexton SUV later this year, while throughout July SsangYong is offering a no-cost automatic transmission option for the MY11 Korando range. Prices start at$27,990 drive-away.
The Korando comes with a 2.0-litre turbo-diesel engine producing 104kW and 310Nm, while the Actyon Sports ute also comes with a 2.0-litre turbo-diesel, however, it produces 114kW and 360Nm.