Skoda has released a series of sketches of what will soon become its all-new Kodiaq seven-seat SUV, to be launched later this year.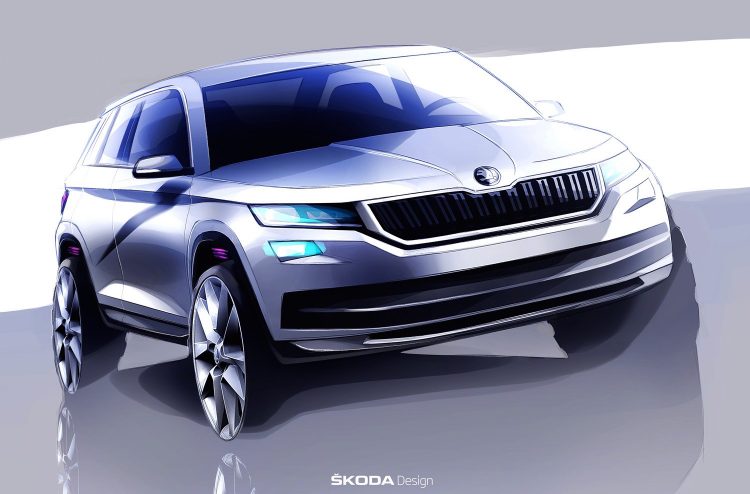 The Kodiaq name was confirmed by Skoda at the Geneva Motor Show earlier this year while unveiling the Vision S concept, which the Kodiaq draws much of its design inspiration from. It is set for an official unveiling at the Paris Motor Show this coming September.
When it goes on sale, as Skoda's first-ever proper SUV, Skoda will apparently option both a petrol and diesel powertrain, with a plug-in hybrid variant joining the line-up soon afterward.
As you can see from the digital renderings, the Kodiaq features quite an intricate design, complete with sharp lines and a bold new fascia for the Czech manufacturer. Thanks to its long wheelbase, the Kodiaq may have a similar length to the Vision S's 4.7 metres. The Kodiaq will also be one of the most spacious offerings in its class, with the largest boot, and an optional foldable third row to accommodate seven people.
However, Skoda's head of design Jozef Kabaň admitted it was a challenge for the manufacturer. In a statement he said:
"The Skoda KODIAQ is a pioneer for our brand in two respects. We are entering a new segment with our first large SUV above the YETI. And at the same time, the KODIAQ is the first model with the new Skoda SUV design language. Skoda is becoming much more emotive."
At this stage, Skoda remains tight-lipped for further details of the Kodiaq, so we'll keep an eye out prior to the Paris motor show for more.