Is Skoda showing some interest in developing a commercial vehicle? Maybe not, but it has revealed a one-off miniature ute called the 'FUNstar' concept. It's based on the latest Fabia, and will make its public debut at the Worthersee festival next month.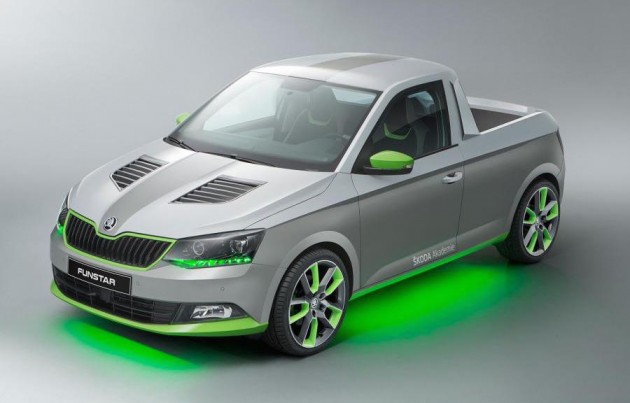 The fun little concept was built by Skoda apprentices, following on as a tradition from last year's 'CitiJet' concept which was based on the Citigo cabrio. For the FUNstar, apprentices have gone for an obvious white and green colour scheme in tribute to Skoda colours.
Green highlights are extended to the bright sections on the unique 18-inch alloy wheels, side skirts, and front spoiler and rear diffuser section. There's also neon sections around the grille, side mirrors, and of course neon lights beneath the car.
In the engine bay the apprentices wanted to fit a 1.8 TSI turbo engine, however, the idea was apparently shelved. That leaves the standard 1.2 TSI in its 90kW form. The engine is matched up to a seven-speed DSG auto.
Apprentices aged between 17 and 18 have been working on the project since September last year. Each worker, 23 of them, helped widened the B-pillars to help the little hatch handle being transformed into a ute, while reinforcements were made to the side panels.
Aside from the unusual body layout, the apprentices also fit a 1400W sound system so it can pump out tunes. Most of the interior is also customised, with sports seats and a sports steering wheel.
Volkswagen has a history of allowing apprentices to work on special projects which are shown at the Worthersee event. It's good to see young guns showing interest in modifying cars. This year the event runs from May 13-16.