The famous 'Eleanor' Ford Mustang from Gone in 60 Seconds will go up for auction in December. It is one of 11 ever built for the blockbuster movie.
Gone in 60 Seconds was created in 2000 as a remake of the classic film of the same name. Featured in the modern film was a highly desirable 1967 Ford Mustang GT named Eleanor. Up to 11 specially made Mustangs were built for the movie.
Interestingly, this example going up for auction is just one of three that were actually used in the movie, making it to the big screen. This means it was driven or touched by big-name stars such as Nicholas Cage and Angelina Jolie.
Under the bonnet sits a 5.8-litre (351ci) naturally aspirated V8 engine which breathes through an old-fashion Holley 700 CFM four-barrel carburettor and high-volume fuel pump. Behind that is a four-speed manual transmission and Positraction rear end.
Other mechanical highlights include four-wheel disc brakes (an impressive feat for a 1967 model car), a Fluidyne Racing aluminium radiator, and a Total Control front reinforcement kit to improve front-end grip and stability.
The body is made to full Eleanor specifications with a strong Shelby influence. There are Thunderbird-like taillights, a quick-fill fuel cap, a big bonnet bulge, and muscular wheel arch flares and side exhausts for the ultimate muscle car look.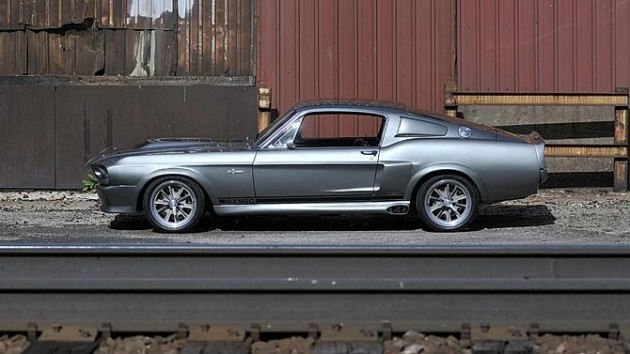 If you're interested in grabbing this piece of automotive history and Hollywood memorabilia, it will go under the hammer in the US at the Mecum Auctions event running from December 12-13. Head over to the Mecum website for more details.