Aston Martin's One-77 is arguably one of the British carmaker's most beautiful and bespoke cars ever produced, with only 77 examples lovingly handcrafted.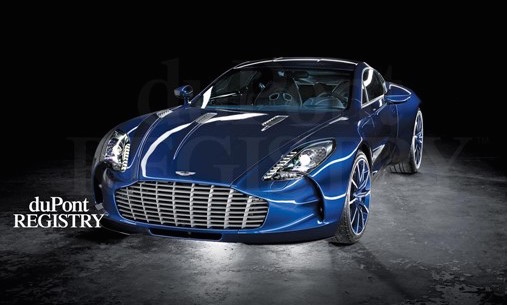 For sale on duPont Registry is number 66 of those 77 produced. A knuckle-bitingly dazzling example painted in Aviemore Pearl blue.
The One-77 for those who remember is a front-engined, rear wheel drive supercar which debuted at the 2009 Geneva Motor Show, before going on sale for £1,150,000 (AU$1,877,909 at today's exchange rate). This St.Petersberg, Florida example is asking US$3,500,000 (about AU$4,583,600).
As a refresher, the One-77 was powered by a 7.3-litre V12, with no forced induction. It produced a staggering 560kW and 750Nm, and was proclaimed to be the most powerful atmo engine in the world at the time.
It sent those violent tuxedo-clad horses through a six-speed automated-manual gearbox, with resulting 0-100km/h times of 3.5 seconds and a verified top speed of 354km/h. To put that into context, that is around the same as the Jaguar XJ220 of 1992 – the world's fastest car until the McLaren F1 showed up shortly after.
The car has undoubted collectable status. Check out the pictures to drool over the gorgeous detailing, including the carbon fibre latticework surrounding the engine bay.