We're not sure if this is a cool find or more of an interesting find. Either way, there are certain aspects that will definitely evoke some sort of emotional stir. It's a unique BMW 3 Series Coupe built by AC Schnitzer called the GP 3.10, and it's up for sale.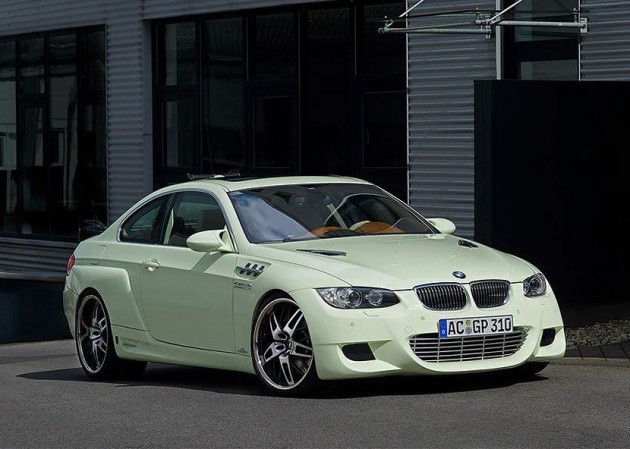 So what's so unique about it? Well, immediately you'll notice the eye-catching soft green paint job with various polished chrome highlights that stand out like gold teeth.
The front end uses a custom AC Schnitzer front bumper bar with its own cross-hatched chrome lower grille and vertical kidney grilles. Meanwhile, down the sides are a pair of chrome 'gills' in the front guards.
There are similarly dramatic changes at the back with a fresh bumper bar and integrated diffuser, a CSL-inspired lip spoiler, with a set of pumped rear guards for a more muscly look.
As for the under-bonnet performance, in the engine bay sits a jaw-dropping E60 BMW M5 5.0-litre V10 engine. In its standard form, the mighty V10 develops 373kW. In this, AC Schnitzer has made some tweaks to see power rise to 406kW – almost the same output as the current twin-turbo V8 M5 (412kW). The engine is matched up to a seven-speed M-DCT dual-clutch auto transmission.
Even more interesting than the V10 conversion is the fact that it has been set up to run on LPG, which makes it somewhat environmentally friendly. Lining up with taxis might become a little annoying after a while, however, when you're in a 3 Series that's capable of 0-100km/h in around 4.5 seconds and a top speed of 320km/h, we're sure it will be easy to get used to it.
Other mods include huge eight-piston front brakes and four-piston rear brakes, brake ducts for cooling, a set of dished five-spoke chrome wheels, and lowered sports suspension. There's also a tiny little carbon fibre wing mounted on the 'shark fin' antenna, and a fully customised and reupholstered interior inside.
If you're after a car that makes a big statement wherever you go, this could be the perfect machine. AC is asking 55,000 euros (around AU$79,000).
More details can be found in the AC Schnitzer ad PDF.