Looking for a cool sleeper? Up for sale in NSW at the moment is this awesome 1986 BMW E30 3 Series with a complete, fully-engineered 1JZ turbo engine conversion.
The E30 BMW 3 Series engine bay is already developed to accommodate an inline six engine, which means the Toyota 1JZ unit probably didn't require major modification to fit inside.
According to the advertisement, the engine is nicely tuned, using a Garrett GT3582 turbo mounted on a steam-pipe manifold, with a Turbosmart 45mm wastegate, breathing into a 3.5-inch stainless steel exhaust system.
The engine is controlled by a Haltech Elite 2000 computer, with a fully braided engine loom and ignition upgrade, with 1150cc Bosch injectors. On 24psi of turbo pressure, the engine, according to the owner, has produced 450hp at the wheels (336kW) on a United E85/98 flex tune.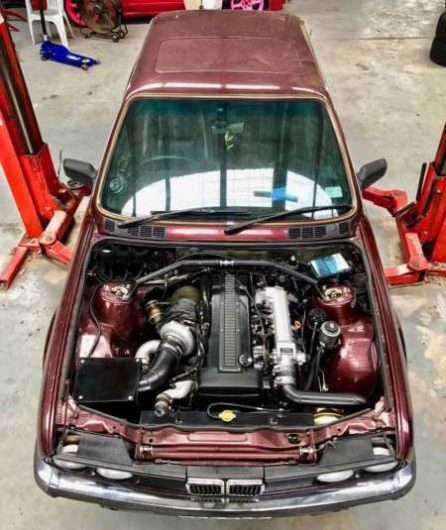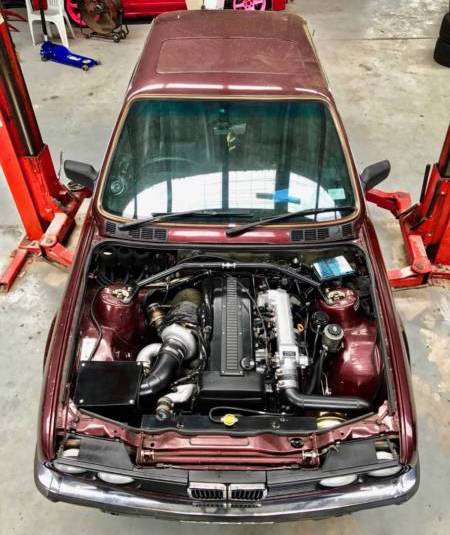 Best yet, the car is completely engineered and comes with a VSCCS engineering certificate and NSW road registration. From the outside, it looks like an innocent 3 Series. Even the 52mm alloy radiator, custom oil cooler, and front-mounted intercooler are perfectly concealed behind the 3 Series grille. Despite looking like stock wheels, they are actually custom-made 15-inch steel items with staggered sizes front and rear, with the stock hub cabs.
There's more to it than just the engine swap. To ensure the car can handle the extra power there's a set of BC coilovers replacing the factory suspension, with PowerFlex sway bar bushes, and a custom steering linkage with a low ratio sports rack and steel lines. A set of Wilwood brakes are fitted too, with Mazda FD RX-7 brake calipers and a beefier brake booster.
Inside the 3 Series is pretty standard, with the standard steering wheel and gauges and so on, but with some fresher leather sports seats from a Lexus IS 300.
This seems like one of those awesome builds that has been done properly from the start. The asking price is $25,000, which isn't too bad considering it is fully engineered and road legal. Head over to the Gumtree ad for more details.