At the upcoming Shannons Melbourne Winter Classic Auction in a couple of weeks, two rare Porsches will go under the hammer; a 1973 Porsche 911 Carrera RS 'backdate', and a 1965 Porsche 912.
Starting with the 911, the 1973 911 2.7 is one of the coolests of the retro models, while the RS is easily the most sort-after. Real versions are rare though, and even if you can find one, they are very expensive.
The model to go up for auction is an Australian 1982 Porsche 911 SC, however, it has undergone a complete model refresh. All of the original RS details have been fitted, including the ducktail rear spoiler, front and rear bumper bars, and 16×7 and 16×9 colour-coded Fuchs forged wheels.
In the back doesn't feature a 2.7-litre engine, instead, there's a rebuilt and tuned 3.2-litre flat six. Power output has been rated at 188kW, which is excellent for a lightweight. The engine is matched up to a five-speed manual transmission with a short-shifting kit.
Inside includes a number of more modern features for improved practicality and comfort, such as electrically adjustable front seats from a 964 911, and new carpets, while a Momo sports steering wheel and RS door trims connect back with the RS.
The RS backdate is expected to sell for around $52,000 to $58,000.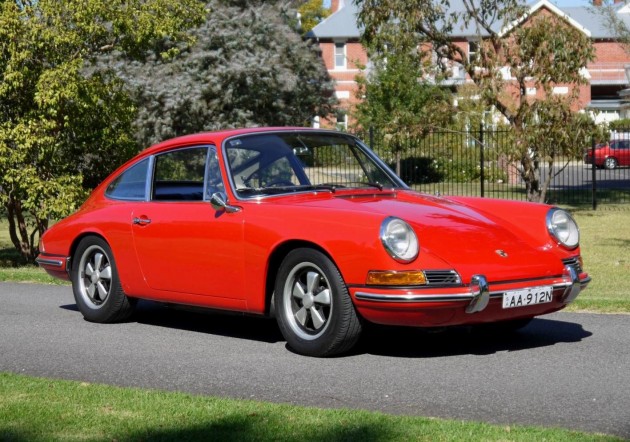 Also to go up for auction is an original 1965 Porsche 912. The 912 was the 911's smaller but older brother. It comes with a four-cylinder engine of 1.6 litres in capacity, and breathes through Solex carburettors.
The car was originally ordered and delivered new to a US buyer, and comes with a five-speed manual transmission and Fuchs wheels. It's in superb original condition, and has been finished in a new red colour scheme. It's expected to fetch up to $26,000 to $32,000 at the auction.
The Shannons Melbourne Winter Classic Auction will take place on June 4. For more information on these, and others, head over to the Shannons website.