There's a new DVD out called, strangely enough, Rohrls Katze (Rohrl's Cat), which celebrates the life of the brilliant racing driver, and now Porsche chief test driver, Walter Rohrl. Well, the DVD has actually been out since August, but somehow it has snuck under our radar.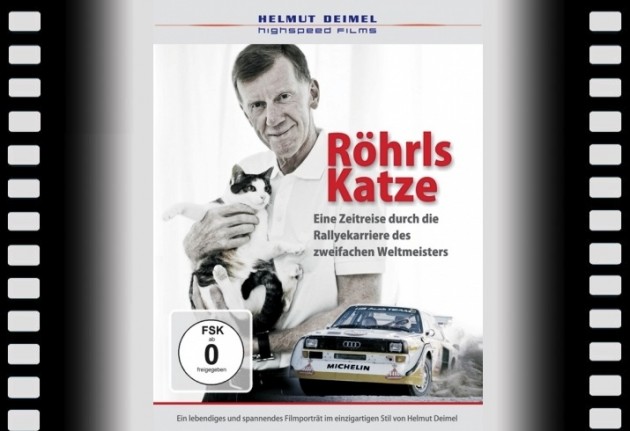 Maybe there's a bit of a metaphor to be taken from the title? We're not too sure. According to the film blurb, Rohrls Katze is about the driving ace's epic history in rally and motorsport, as well as the man behind the career, and some of his behind-the-scenes life.
In my personal opinion, Walter Rohrl is the greatest driver in history. He may not have won 50 Formula One titles and shone in the celebrity spotlight like many other popular top race drivers, he simply proves his skill by quietly demonstrating complete and utter finesse every time he jumps behind the wheel.
He's also a rally driver, which, again, in my personal opinion, requires much more brainpower, more connection with the car and trust in the car/co-driver, and an intense ability to read and trust the conditions ahead, compared with the act of lapping a circuit.
According to the summary, the new Rohrls Katze DVD previews some of the finest moments in Rohrl's extensive career. Such highlights include winning two World Championships and taking home 14 Rally wins. It also shows some of his interesting career moments, including when he side-swiped a van in Kenya during a rally stage, or when he crashed into a farm house during the Sanremo Rally.
Walter Rohrl has driven pretty much all of the crazy Group B rally cars in his career, including the insane Audi S1 Quattro which was known to produce well over 550hp (410kW), various old-school Porsche 911 rally cars – potentially one of the most difficult styles of rally car to manage – as well as the screaming Opel Ascona 400 and the famous Ferrari-powered Lancia Stratos. Rohrl has conquered them all.
We'll be ordering our copy of Rohrls Katze, that's for sure.
Click play on the video below for the Deimelfilm trailer. And tell us, who is your favourite driver? Who do you think is 'the best driver in the world'?
You can find out more details and order your copy of the DVD through rallyandracing.com and via various eBay shops.