Land Rover has pulled the wraps of the awesome new Range Rover Sport SVR high-performance SUV. It's being labelled as the fastest and most powerful Land Rover ever made.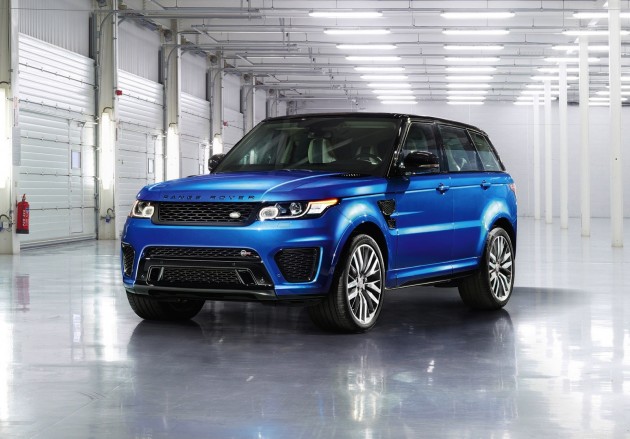 The SVR is the first model to wear an SVR badge and could help spawn a range of other SVR models in the future. It's built by Jaguar Land Rover's Special Vehicle Operations team, which has been set up to provide unique options and accessories for a range of models.
As we found out a couple of weeks ago, the Range Rover Sport SVR has posted an impressive lap time around the Nurburgring, completing the arduous circuit in 8:14. This is a world record for a production SUV.
Part of this awesome performance is thanks to the 5.0-litre supercharged V8 sitting under the bonnet that produces 405kW of power and 680Nm of torque. It's able to propel the big beast from 0-100km/h in just 4.7 seconds, with a top speed of 260km/h.
Aside from the engine, the suspension and chassis have also been tweaked to cope with higher demands of the driver. Not that the all-new aluminium chassis needs any sort of tuning; it's already up to 420kg lighter than the predecessor's chassis.
To help the SVR be heard before it is seen there is a special two-stage active exhaust. Electronic actuators automatically swap the flow modes to provide either a racecar-inspired V8 roar or a more refined burble when driven steadily.
Other highlights include 21-inch alloy wheels with 275/45 all-season tyres, or optional 22-inch items wearing 295/40 Continental SportContact 5 tyres, various aerodynamic tweaks to help with cooling and efficiency, as well as a bespoke interior with sports seats.
The SVR will go on sale in Australia during the second quarter of 2015. Prices are yet to be announced.