Flying through the bush at over 200km/h, just missing trees and coming within a fraction of a twitch of becoming a passenger to an uncomfortable roller-coaster ride is all within a day's work for Molly Taylor.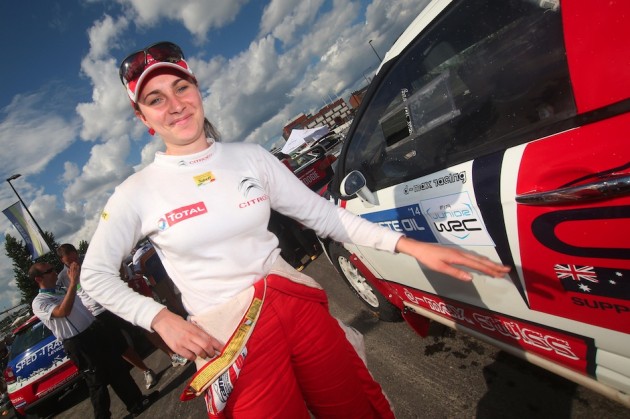 You might have heard the name before, or at least think you've heard the name. That's because Molly is the daughter of Coral Taylor, co-driver for four-time Australian Rally Champion Neal Bates. When we were asked if we wanted to go for a drive with Molly, 26, as part of a corporate drive day, how could we resist?
Molly has won the British Ladies Rally Championship twice, in 2009 and 2010, and has spent years in Europe competing in various rally competitions. Nowadays, she spends her time competing in the FIA Junior World Rally Championship for under-28s. Yep, along side the hotshots in WRC.
In the lead-up to going for a flat-out hot lap around Colo Park dirt track, located about 90km northwest of Sydney, we asked Molly a few questions about what she's up to in her career and a bit about where she wants to be.
PD: What have you been doing this year? What class of racing?
MT: This year I've competed in the Junior World Rally Championship which is all based in Europe. It's always an adventure. We only did four of the six rounds this year due to lack of funding.
PD: How'd you go?
MT: We got some good results. Third in the Rally Finland and fourth in Rally Great Britain. We were happy with what we did with what we had.
PD: Do you want to do it again next year?
MT: Now the plan is to secure the budget to continue again next year, yes. It would be great to go back and have a full crack at the Junior WRC, but ultimately it just comes down to getting the package together.
PD: Tell us more about this crazy little Citroen you drive in the rally? Is it a factory car that you've bought outright, sponsored by Citroen?
MT: The car we have here today is identical to the car I ran overseas. The car was owned by an Italian racing team and we basically did a deal with them to run the car. Citroen Racing support the trophy, the Junior WRC. It's their one-make series. So, Citroen Racing are obviously very heavily involved, but then we have a private team that run the car.
PD: Is there anything similar in Australia that you or anyone can get involved in?
MT: There are a few teams, but it's not at the same level as it is over in Europe. Most of the competition is over there.
PD: What's next then? Aside from to continue on next year?
MT: To make a profession out of driving. At the moment it's still me sourcing the sponsorship. We've got some support to make it happen but we still need to organise more. If I can get myself into the position to just drive, that's the goal.
PD: Overseas?
MT: Ideally. Yep, for sure. There are so many opportunities. You never know what door will open or when.
PD: It's a bit of a shame but it seems like rallying in Australia is becoming a thing of the past.
MT: Yeah, Toyota pulled out, and then Subaru. I think it is starting to get some legs again, but yeah, it goes in ups and downs. Hopefully we're on for another high soon.
PD: What are some of the ways you raise money?
MT: Drive days like this are great. They are a way of thanking our sponsors, but also a way of bringing in potential sponsors, or people that just want to come out and experience rallying.
PD: Speaking of experiencing rally. When did you get into the sport and, perhaps what most of us want to know, what so of advice would you give to those that want to get into it?
MT: Well, my family were involved with it so I've always been around it. I started by working at a rally school. I had a drive and became addicted through that. That's one avenue. There's a lot of car clubs out there as well, and that's really the best place to start. Search your nearest rally-orientated car club and go out to a meeting or a local dirt circuit. You can do it very cheaply. Get an old car for a few hundred dollars and go out and learn car control and then move up from there.
PD: Do you have any special advice for our female readers out there who want to rally? Are there any challenges for females or is it the same, regardless?
MT: The main challenge is funding. Being female I've never really noticed the difference in the sport to be honest. I mean, I think it depends how you approach it. If you go out there and expect special treatment then I don't think you'll get very far. If you're just out there, everyone's here to do the same thing, then it doesn't make any difference.
PD: Thanks for the chat, Molly. We can't wait to go for a spin.
If you think front-wheel drive rally racing at WRC level is weak or slow, think again. The Citroen DS3 R3T features a 1.6-litre turbo engine producing around 172kW. With almost all creature comforts removed leaving only a roll cage and items designed to make the car go faster, the DS3 weighs in at no less than 1150kg.
We're amazed at how much traction there is in a proper FIA rally car, even in extreme dusty conditions. Molly told us the tyres were actually worn and that it should've been a lot better. Speaking about the car, she said,
"They're kind of the cars that if you drive them conservatively, then they feel terrible. But when you're really positive with the throttle, the brakes and the suspension then they behave a lot better. It's quite fun."
It certainly is a lot of fun. Take a look at the video below for a taste of what it's like. Be sure to head over to Molly Taylor's website for more background on what she's done and to keep updated on her journey to becoming Australia's next WRC star. You can also follow Molly's Twitter page for more updates.