Candidates for the upcoming SuperUtes series have been unveiled in Townsville ahead of the series debut in 2018, including an example of the Mitsubishi Triton, Ford Ranger, and Mazda BT-50.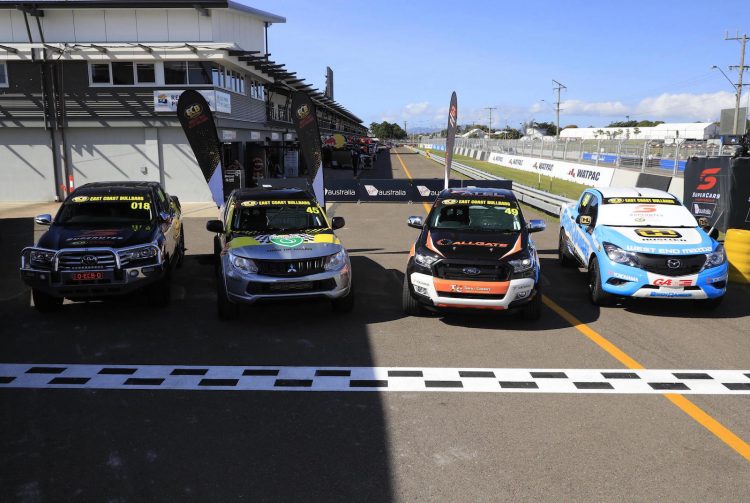 As reported by SuperUtes, the wraps came off the racing versions of the Ford Ranger, Mazda BT-50, Mitsubishi Triton and a Toyota HiLux brandishing an East Coast bullbar – the sponsor of the series.
SuperUtes will be the supplementary racing series alongside the 2018 Virgin Australia Supercars Championship, which next year will be debuting new bodystyles and a turbo V6 wildcard in the form of the new Commodore racing car.
The Ford Ranger, which was demonstrated, was built by Ross Stone, who has overseen the development of the series. He said in a press release:
"It won't be over the top with data but we're going to have enough for a young driver to learn and have a good base of knowledge to progress into Dunlop Super2 Series or the main game. I've really enjoyed getting in and helping the Supercars technical guys put the package together. It's been a lot of work, but once the series is up and running I'll just be a competitor."
The cars are rumoured to be capped at around 260kW, restricted to a minimum weight of 1800kg. A $60,000 race kit on top of the purchase price of a homologated dual-cab ute is required to take part and is outlined below.
The Isuzu D-Max and Holden Colorado are also homologated for the series. The criteria for participation is as followed:
Supercars approved control specification kit consisting of:
• Diesel Engine evaluation
• Motec dash colour display/data logger
• Exhaust – (OE manifold)
• Suspension – Front and Rear SupaShock shock absorbers and springs
• Brakes – Brembo 6 piston front and 4 piston rear calipers, Brembo front and rear disc's
• Tilton Pedal box and master cylinders incorporating brake bias adjustments
• Control gearbox and ratios; Control differential and ratio; Control tyres; 20in Control wheels
• Control specification roll cage (bespoke to each manufacturer) – CAMS approved.