The 1997 EL Ford Falcon GT seems to be a bit of a forgotten performance car these days. With its 'over-styled' bodykit and funky-looking plastic woodgrain, it was certainly very '90s, and much different to the original Falcon GT examples.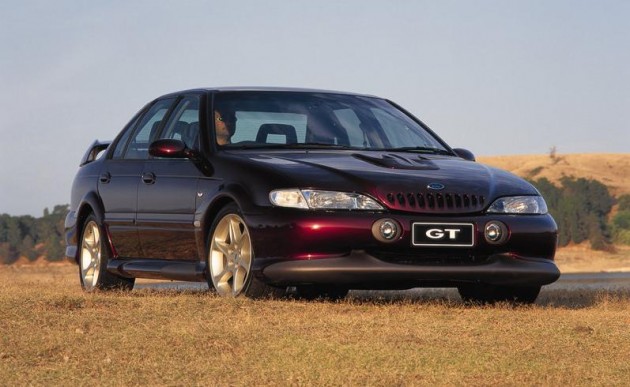 The 1997 EL Ford Falcon GT was built to celebrate the 30th Anniversary of the first Falcon GT, the Ford XR Falcon GT, built in May 1967 – original Falcon GTs were built from 1967 through to 1976.
Its Windsor V8 engine produced 200kW and 420Nm, thanks to special cylinder heads, a high compression (9.0:1), large valves, heavy-duty valve springs, roller cam followers, fuel injection, a large throttle body, and extractors.
The EL GT wasn't available in vibrant colours such as Wild Violet, Vermillion Fire, or True Blue like the originals, instead, buyers were left with the choice of Heritage Green, Sparkling Burgundy and Navy Blue.
The 1997 EL Ford Falcon GT was available in either five-speed manual, or four-speed automatic transmission. A total of 250 EL GTs were built and sold in Australia; 135 were automatic, and 115 were manual. Fifteen extra cars were built for New Zealand, with two of those heading to South Africa.
To cope with the extra grunt over the EL XR8, a heavy-duty clutch was standard, as was strengthened gears and a short-throw gearshift, fitted to make changes as smooth as possible. The Hydratrak differential ran a 3.45 ratio, offering a decent top speed (230km/h) and ample acceleration (0-100km/h in 6.97 seconds).
The 1997 EL Ford Falcon GT was loosely based on the Ford EL Fairmont Ghia, and not XR models like most would think.
The insides of the 1997 EL Ford Falcon GT was draped in leather and plastic woodgrain, making you feel like you'd stepped into business class… almost. Ford Fairmont Ghia equipment such as air-conditioning, power windows and mirrors, and a sound system was a standard affair on all EL GTs.
As far as passive safety went, the car was fitted with driver and passenger airbags, and ABS brakes.
The 1997 EL Ford Falcon GT was given a larger anti-roll bar, and urethane bushes were fitted to the live-axle rear end. Also, higher-rate springs and retuned shock absorbers were fitted to the front. All up, the suspension tweaks gave the EL GT a sporty ride, but not sporty enough to ruin your spine. Braking was also improved thanks to twin-piston calipers up front.
The original Ford XR Falcon GT was only the beginning of a series of Aussie-built muscle car icons. The sale of Falcon GTs thrived off the 'race on Sunday, sell on Monday' theme, given their touring car success (and Falcon GTHOs) throughout the '60s and '70s.
Now, for those that remember, or simply don't know, there was another 'modern' take on the GT, known as the 1992 EB Ford Falcon GT. The EB GT was built in 1992 to celebrate the 25th anniversary of the GT nameplate. The EB GT was also rated at 200kW.
If you're in the market for a 1997 EL Ford Falcon GT, make sure you shop around. We've seen them sell from anywhere between $20,000 and $80,000, depending on kilometres and condition.
From what we can see, most are owned by collectors and blue oval diehards, so picking up a well-sorted example shouldn't be a problem. Just be picky and you'll find what you're after.
You don't see many around anymore, and while it might not be an 'original' GT, it doesn't mean that the 1997 EL Ford Falcon GT isn't a worthy garage trophy. The idea of mixing performance with luxury is still there, though, it's always hard to knock the original.
1997 Ford Falcon EL GT:
Price when new – $69,500
Kerb weight – 1699kg
Engine – Ford SVO GT40 5.0 V8
Power – 200kW @ 4700rpm
Torque – 420Nm @ 3700rpm
Wheel base – 2791mm
Length – 4931mm
Width – 1888mm
Height – 1394mm
Track front – 1566mm
Track rear – 1547mm
Engine size – 4942cc (302ci)
Compression ratio – 9.0:1
Wheels – 17 x 8.5
Tyres – P245/40ZR17
Top Speed – 230km/h
0-100km/h – 6.97sec
Standing 400m – 14.97sec
PROS
It's the best Aussie-built Ford muscle car of the '90s, now a collectable, the crisp exhaust note of the Windsor V8
CONS
Looks more like the Millennium Falcon than a Ford Falcon, it's not a real 'GT' to the diehards
Past Blast rating: 7/10
If you own a performance ride you think would be perfect for a Past Blast feature, feel free to email us at info@performancedrive.com.au