Details of the upcoming Pagani Huayra BC have been leaked, ahead of its official unveiling at the Geneva Motor Show next month.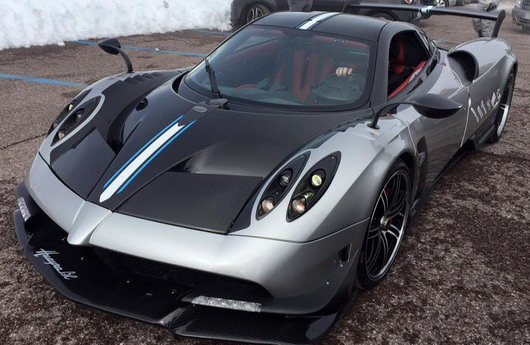 The latest in the line of uber exotic, maniacally quick and insanely limited edition hypercars is set to bare the initials BC. Whispers are signaling BC is homage to the late car collector, Benny Caiola.
Caiola was an avid collector of cars, especially Ferraris, however, he had a close relationship with Horacio Pagani. Upon delivery of his very own Zonda in 2000, Caiola sent Mr Pagani a letter of appreciation, as well as a generous bonus for Pagani engineers.
The Huayra BC is without doubt the most hardcore Huayra to roll out of the factory, with less weight and significantly more power extracted from the monstrous AMG-derived twin-turbo V12.
Thanks to plenty of carbon fiber, the Huayra BC has received the Jenny Craig treatment, and, according to a prototypeZero.net report, weighs 1200kg. This means it is 150kg lighter than the regular Huayra.
On top of this, Pagani has apparently extracted an extra 75kW from the 6.0-litre V12, now producing 618kW (up from 544kW in the regular Huayra). No word yet has been mentioned on the exact torque figure, but expect a modest increase from the already insane 1000Nm produced from the stock Huayra's engine.
There are also a host of new active aerodynamics developed by the Pagani team, including a new rear wing with active flaps that produce 500kg of downforce at 250km/h, redesigned air intakes at the front, a new rear diffuser, and wider air intakes on the side of the body.
Want one? Well, unless you've already had a little chat with Mr Pagani himself, you're fresh out of luck. Only 20 are set to be produced, all of which have been allocated to their lucky owners.