Nissan has announced it is currently developing the world's first solid oxygen fuel-cell that runs on bio-fuel.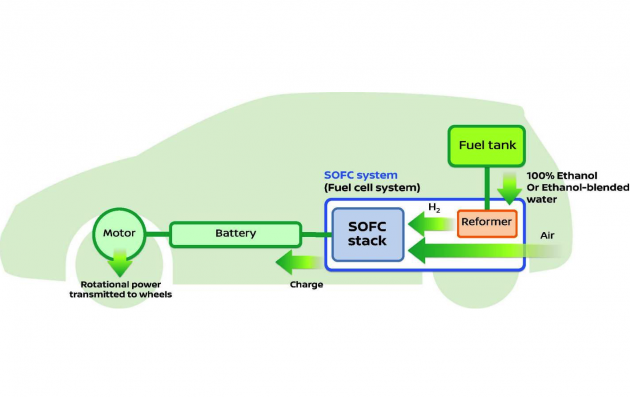 The solid oxygen fuel-cell (SOFC) system, a first for the automotive sector, is, according to the engineers at Nissan, "a fuel cell utilising the reaction of multiple fuels… with oxygen to produce electricity with high efficiency".
It's a fuel-cell that instead of running on hydrogen, for the first time, utilises the combination of bio-fuel and oxygen.
The e-Bio fuel-cell's SOFC creates electricity by adding bio-ethanol stored on board, but can also run on natural gas. It then utilises the hydrogen created from fuel with something called a reformer, and the oxygen in our atmosphere. Look, we don't understand it either, but Nissan says the end result is more than enough electricity to power a vehicle.
The e-Bio fuel-cell has a claimed range of more than 600km, and benefits from things like a silent ride, and drivers can experience instantaneous torque that EVs are famed for.
Nissan is keen to point out that its SOFC system is a fuel system that causes biofuels to react with a noble gas-like oxygen, with no hazardous by-product released into the atmosphere. When power is generated, carbon dioxide is produced, but can be seen as a carbon-neutral cycle thanks to the growing process of sugarcane and corn, which make up bio-fuels.
Nissan is billing the e-Bio fuel-cell as an accessible means of powering vehicles, and adds that ethanol-blended water is safer to handle than conventional fuels. It also eliminates the need to install a vast new system for fuelling or maintenance infrastructure, specifically for SOFC vehicles.
Expect to see a concept previewing Nissan's SOFC technologies at an upcoming international motor show.