BMW's next 'i' model will reportedly be based on the 5 Series, called the i5. It will be the sub-brand's third model following the release of the i3 and i8.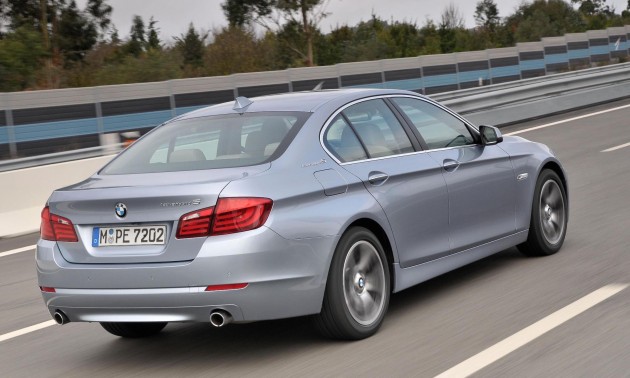 The i3 is a small city car that can be had with a fully electric powertrain or with an optional petrol generator which simply recharges the battery. The i8, on the other hand, is a completely bespoke sports car propelled by an electric motor and petrol motor.
According to an Autobild report from Germany, BMW are working on adapting the 5 Series to suit a plug-in hybrid-electric powertrain. Specifically, a petrol engine combined with two electric motors. The report says the combination will be capable of running on electric power alone for a range of up to 125km.
It's understood the i5 won't simply be a 5 Series with a plug-in hybrid engine though, especially considering buyers already have access to the ActiveHybrid 5 (a 5 Series with a 250kW hybrid powertrain). Instead, it's set to be based on the long wheelbase 5 Series and could adopt some unique styling cues.
An Automotive News report quoted a BMW spokesman recently as saying the Autobild news is just speculation, and that no plans of a future 'i' model have been confirmed yet. The i5 does seem likely however, as it could offer proper seating for five and plenty of rear legroom – a big demand in China.
The i5 is slated to launch some time in 2018. It's expected to be one of the most popular BMW i models, overtaking the i8 and even the i3. Both the i3 and i8 have been quite successful in terms of the company's initial sales projections. If the i5 goes ahead as believed, it could become a very popular model, especially in booming markets such as China.